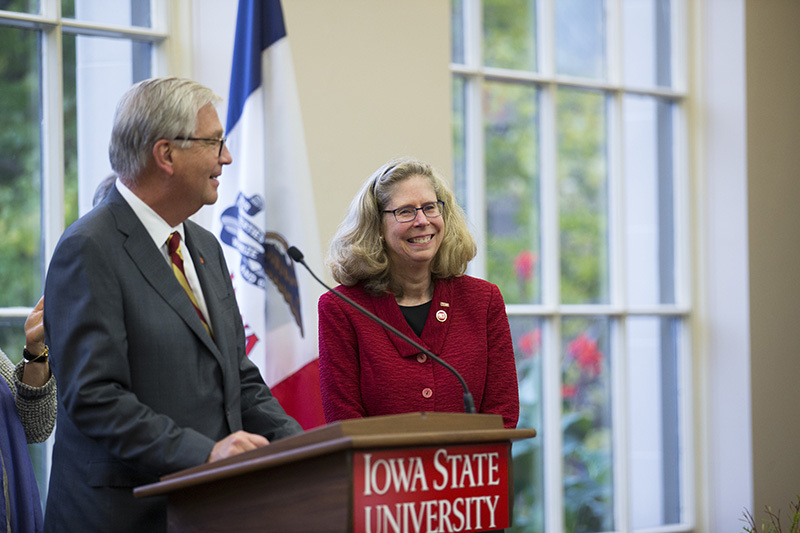 Iowa State has never had a president with more experience on its own campus than Wendy Wintersteen, but her first task still will be to listen.
After a five-month search, the state Board of Regents on Oct. 23 selected the sole in-house finalist -- Wintersteen, dean of the College of Agriculture and Life Sciences since 2006 -- as Iowa State's 16th president.
When she takes office Nov. 20, she'll be the university's first female president, and the first internal candidate promoted to the position in more than 50 years. She's Iowa State's first president to have earned a doctoral degree from the university, and she has by far the longest history at Iowa State of any past presidential appointment.
"I love this university," Wintersteen said after the announcement at the Memorial Union, which followed an all-day regents meeting. "I care about its future."
Regents president Michael Richards said the board was impressed with Wintersteen's vision for Iowa State, and her experience on campus.
"Dr. Wintersteen is one of the Cyclones' own," he said.
As Agriculture and Life Sciences associate dean for academic and global programs, David Acker has worked closely with Wintersteen. He said she's a strong leader who knows when to compromise and when to "not give an inch."
"This is someone who has demonstrated unbelievable commitment to Iowa State University. You don't have to question whether she has the love for this institution; she's already proven it," Acker said.
Interim President Ben Allen, who has led Iowa State since former President Steven Leath's departure this spring, said he was delighted by the board's pick.
"I have known Wendy a long time and she is a strong, accomplished leader with a proven record of success in the College of Agriculture and Life Sciences. She has a sincere passion for Iowa State. I am confident she will be an exceptional president, and I look forward to working with her to facilitate a seamless leadership transition," Allen said.
Ear to the ground
While she's been at Iowa State for 38 years, Wintersteen, 61, said her first order of business is getting to know every corner of the institution, in part through a series of listening sessions with each college.
"You're not trying to provide the answer to what the issue is. You're simply trying to hear what they have to tell you," said Wintersteen, who as a dean held listening sessions in her college. "What are their stories?"
That effort will benefit from her deep roots at Iowa State -- a progression that includes time as professional and scientific staff, graduate student, faculty and administrator.
"What it's given me is really a clear understanding about Iowa State's people, about its culture and about how it wants to move forward. I think that I'm a very accessible individual because of that path that I've taken. I think it will free up individuals that want to come and visit with me and give me their insights," she said.
Acker said Wintersteen is open to innovation and a "great listener."
"That's not always true of people in leadership positions, so that sets her in a special category as far as I'm concerned," he said.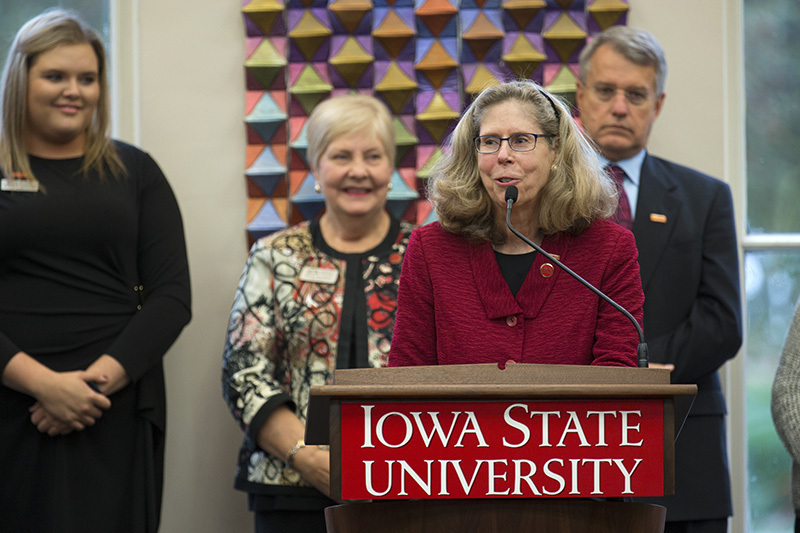 Challenges ahead
An interim Agriculture and Life Sciences dean will be named within days, Wintersteen said. Picking her replacement will be one of a series of key hiring decisions she'll face in the coming months, along with College of Veterinary Medicine dean, vice president of extension and outreach, and chief financial officer.
But Wintersteen said her biggest challenge as president will be managing a budget reeling from sagging state support. She has a track record as a fundraiser -- bringing in nearly $250 million in donations in her tenure as dean -- and said she looked forward to continuing the momentum of the ISU Foundation's $1.1 billion "Forever True, For Iowa State" campaign.
"We can not do everything that we need to do at Iowa State University with public monies," she said.
She also emphasized efficiency, saying it was important to prune back unnecessary expenses to focus faculty and staff on their core responsibilities of teaching, research and extension. Iowa taxpayers need to know the university will never waste a dollar, she said.
"That's something we're going to stand up and be proud of every day," she said.
Legislators also want to be assured Iowa State is efficient, but Wintersteen said sharing the impact of the state's largest university also is important.
"They care deeply about the students that we teach because they're the children of their constituents," she said.
Seeking excellence
In her remarks at Monday's announcement and in a Tuesday email to the campus, Wintersteen said her goal is to make Iowa State the nation's best land-grant university. Fundraising will be crucial, allowing for world-class facilities, more scholarships and special experiences for students, she said.
"First of all and foremost, we're about students," she said.
Student government president Cody West, a senior in biology, said Wintersteen is great at relating to students and sincere in her interactions with them.
"The students in her college, especially, are very fond of her. They see her as a visible presence on campus and know their dean is there to support them," he said.
As she did during her public forum as a presidential finalist, Wintersteen pointed to a need to boost entrepreneurial culture across the university and improve inclusiveness on campus.
"I want you to know that I look forward to working with all of you as we create an open, inclusive and welcoming environment where every student who works hard can achieve their full potential," she said.