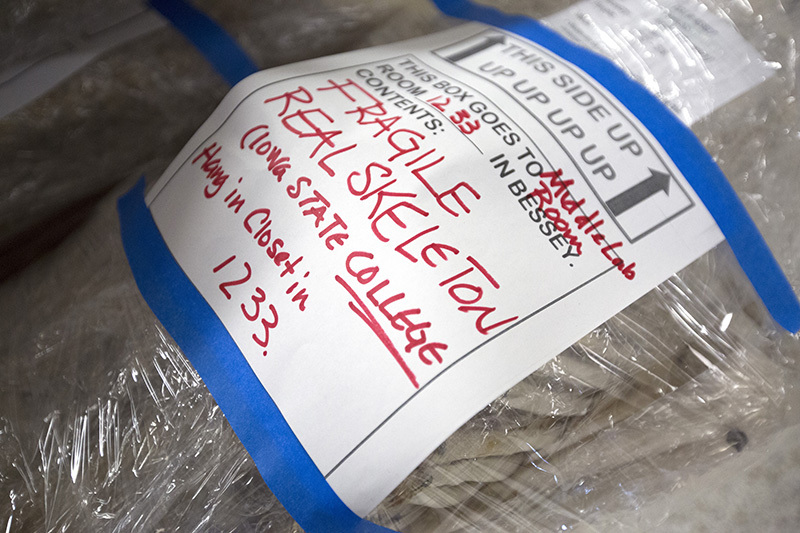 It's not just a saying. Skeletons actually belong in the closet. But at Iowa State, precisely how some of them got there is a mystery.
Two collections of real human skeletons are used for instruction in the university's biology and anthropology courses. As the course director of the laboratory sessions for biology 255, Fundamentals of Human Anatomy, Carly Manz is the caretaker of one of those skeletal sets.
Anatomy students study the skeletons during the course's two labs on bones, and they're far more valuable as a teaching tool than synthetic skeletons, said Manz, a lecturer in genetics, development and cell biology. Real bones show real variations.
"We all look different," Manz said. "If students go on to any sort of job where they're going to be looking at the health or the bones of individuals, they need to know they're not going to look like the plastic skeletons."
The four anatomy-class skeletons are articulated, meaning they're assembled, wired together with metal rods. They're never taken apart, and when they're moved -- as they were this summer, from Science II to Bessey Hall's new addition -- they must be well-protected in heavy layers of bubble wrap.
Maintaining them is largely a matter of proper storage, Manz said. Skeletons need a somewhat humid environment without direct sunlight to avoid deterioration into brittleness, she said. They also need to hang to be seen, she said.
In other words, something similar to a closet is perfect.
"As long as they're kept in a nice, sealed compartment, they're usually pretty good," she said.
Iowa State's other set of skeletons, used in the anthropology department, consists of unassembled bones stored in individual boxes, Manz said. But that's not the only difference between the two collections.
Much is known about the skeletal material used in anthropology courses. It comes from a large, well-documented collection of skeletal remains accumulated by Stanford University in the early 1900s, which was acquired by the University of Iowa in the late 1990s. A small sliver of that collection is on loan to Iowa State, which in turn has loaned an even smaller sliver to the University of Northern Iowa.
To study forensics, hands-on experience with human bones with known pasts is essential, Manz said. "It's not very valuable to teach them how to estimate the age and sex of skeletons when you don't actually know the answers," she said.
The origin of the four biology skeletons is unknown, however.
Barbara Krumhardt was the anatomy class lab director for 13 years before retiring last year, preceding Manz. When Krumhardt took on the skeletons, there was no information about their history.
"They were just there," Krumhardt said.
When the skeletons, which were once managed by Iowa State's former zoology department, were moved to Bessey this summer, an instructor noted the skeletons had stickers on them bearing the name Iowa State College, the university's name pre-1959. The timing makes sense. Since the mid-20th century, creating new skeletal collections has become ethically challenging.
"It's just much, much harder to get skeletons now," Manz said.