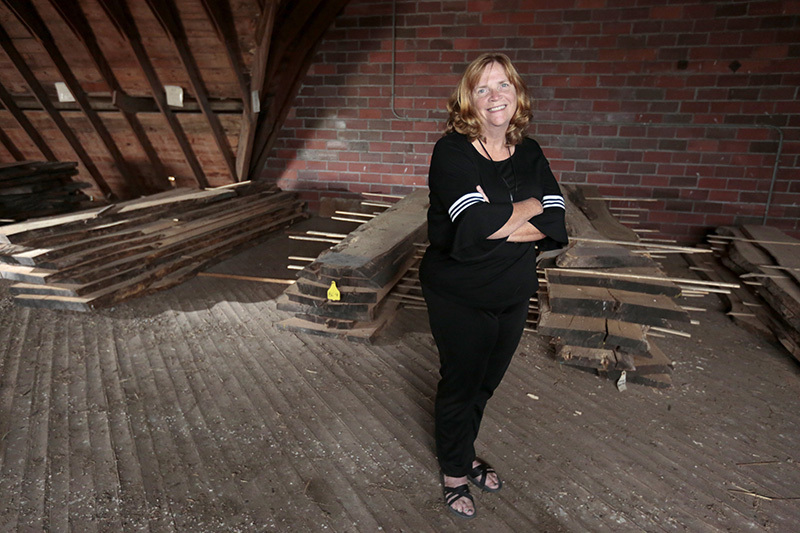 Depending on the year, Iowa State annually removes or loses as many as three dozen large trees. Either in small shards or striking slabs, nearly all that wood returns to campus.
Most downed trees, along with trimmed branches and brush, are chipped for use in campus planting beds. About 25 large trees per year end up in the chipper, enough to supply most of Iowa State's mulching needs, said Rhonda Martin, a campus landscape architect with facilities planning and management (FPM).
But a select few find new life through FPM's TreeCycle program.
The initiative to find the best use for impressive but fallen Iowa State trees began after a tornado on Sept. 8, 2005, knocked down about 70 campus trees, including the state's largest scarlet oak.
Chris Martin, an art and visual culture professor, said when the massive old oak fell, he had already been asked to design and build furniture for the Christian Petersen Art Museum as part of the Morrill Hall renovation. Separately, FPM staff asked Martin if he'd be interested in using the toppled champion tree in a project.
"I kind of ho-hummed about it because I'm not a big red oak fan, to be honest," said Martin, who teaches the university's furniture-making courses.
But he eventually realized he could combine the requests. His students helped design benches and other furniture to outfit the museum space. Graduates in 2006 designated their class gift for the museum pieces and funding to make reclaimed wood available for student projects, giving birth to the TreeCycle program.
Making the cut
Now, more than 450 pieces made from Iowa State trees are sprinkled across campus, Rhonda Martin said. Recent additions include walnut counters in the Friley Windows dining center, an accent wall in Geoffroy Hall, and benches to honor the recent retirements of former FPM director Dave Miller and senior vice president Warren Madden.
Because FPM is choosy about which trees get selected for TreeCycle, the production potential is limited. It wouldn't work for flooring or furnishing an entire building.
"There's no mass quantities of anything," she said.
Trees sawed into planks and stored in a campus barn for TreeCycle purposes must be wide and long, without hollow spots, she said. Suitable specimens of hard maples, walnuts and oaks are always pardoned from the chipper, but others species like pine and ash are borderline, she said.
The planks retain raw edges and are up to 3 inches thick. They're available for campus projects and students taking certain classes. Chris Martin's furniture students have used TreeCycle wood for their projects in two recent semesters and likely will again this spring, he said.
"There are students who get excited about the idea that it's from campus," he said. "Sustainability is on a lot of their minds."
Users of on-campus TreeCycle pieces receive specific information about the wood's origin, an appreciated touch, Rhonda Martin said.
"People want to know where the tree went down," she said. "The more I can give them, the more they're excited about that."
The wood also has been used for keepsakes sold by the ISU Alumni Association, with state prison inmates building designs created by Martin's students, he said.
Scarce opportunities
About 15,000 board feet of TreeCycle wood is in storage, Rhonda Martin said. The planks can't be sold directly to the public, but FPM does release boards -- sometimes upon special request -- for purchase through ISU Surplus sales. Oddly sized chunks sometimes end up in the free wood pile east of Haber Road between the railroad tracks and coal pile, she said.
Chris Martin would like usage of TreeCycle wood to expand, noting that there's even a few planks of the original scarlet oak still in storage. (They're reserved for special projects, Rhonda Martin said.)
"I don't know if people have taken advantage of it as much as they could," he said.
But it's a challenge to work the wood into projects, Rhonda Martin said, because of the same quality that makes them valuable -- their individuality.
"The wood that goes into the barn is very unique. It's one tree. And then it's one other tree," she said.