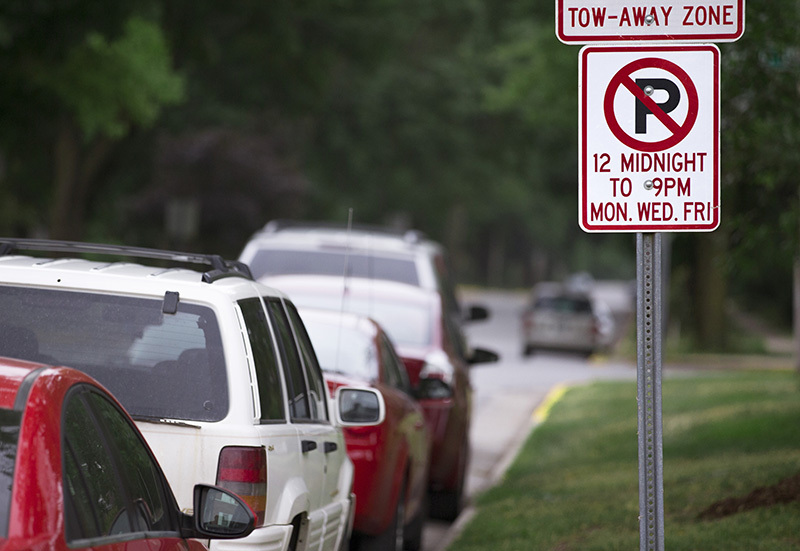 This fall, Ames police will begin enforcing time restrictions on street parking in residential neighborhoods south and west of campus, actively patrolling for violations instead of responding to complaints.
The police department will need to hire additional part-time community safety officers to handle the increased workload, which amounts to about 84 hours per week, according to a memo prepared for the Ames City Council earlier this month.
"Any time we make a change in a strategy like this, it's a surprise to people, no matter how hard we work to get the word out," chief Chuck Cychosz told the council at its July 11 meeting. "You need to be ready for that. We need to be ready for that."
The increased parking enforcement will start with the beginning of the fall semester, Cychosz said this week. However, patrols won't be in full force right away, ramping up as quickly as hiring and training allows.
The council unanimously approved the more aggressive approach, which was prompted by feedback from residents who live in the affected areas.
"Neighbors are getting tired of complaining. They don't feel like they should have to complain," Gloria Betcher, a 1st Ward council member who represents some Campustown neighborhoods, said at the July 11 meeting.
The parking crackdown is focused on about 30 residential blocks, from Beach Avenue to State Avenue as far south of Lincoln Way as Storm and Cessna streets. West of campus, active parking enforcement will be from Campus Avenue to Sheldon Avenue as far north as Oakland Street.
The additional cost of the enforcement is expected to cost about $117,000 per year, but police estimate they'll take in nearly $57,000 in new parking ticket revenue, for a net cost of about $60,000, according to the council memo.
In addition to the hourly time limits, parking officers will patrol for violations to overnight alternating side regulations.
Cychosz said police still will respond to neighbors' parking complaints. In some neighborhoods where complaints were already common, residents and parkers might not notice much difference, he said.
The new philosophy is considered an experiment of sorts, a potentially temporary measure with no definite end point. It could lead to additional changes in city parking laws.
As they set next year's budget, city leaders also plan to discuss an increase in parking fines, which are $20 for most street parking violations with a $5 discount for paying within a week.
They also may consider making parking regulations more consistent. Time limits and overnight alternating rules can change by block.
"There's legitimate confusion," said Cychosz, who supports more standardized parking laws.
Mayor Ann Campbell, however, warned that the last time city officials studied street parking regulations, the rules became even more varied in response to differing concerns and preferences of residents.
Police are planning outreach to alert students and residents to the new parking patrol plan, possibly with mailings and door hangers, Cychosz said. Officers also will attend some student events to spread the word, he said.
To ease the transition to tighter parking enforcement, police also may issue warnings at first instead of citations, though Cychosz said a single warning should be sufficient.
"The whole idea here is to nudge people toward compliance," he said.