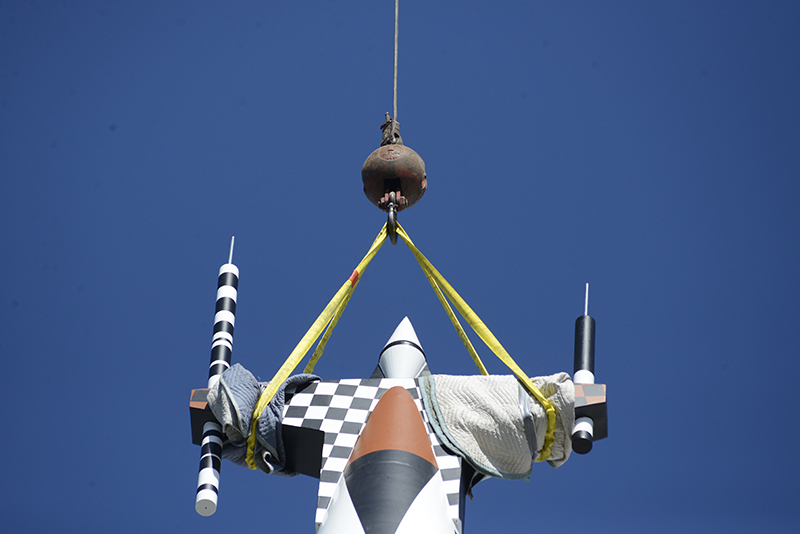 After a brief disappearance, a familiar sight returned this week to the top of Iowa State's Molecular Biology Building.
The G-Nomes are 12-foot sculptures that have stood atop the building's four corners since it opened in 1992. They are part of the G-Nome Project, the building's elaborate integrated artwork meant to spur discussion about the ethics and impact of genetic research.
The outstretched arms of the figures hold X and Y chromosome rods, and they are adorned in black and white to symbolize the colors of business suits and scientific lab coats, according to Iowa State university museums, which manages art on campus. The project was named in part for the Human Genome Project, which was just beginning when the artwork was created, and as an allusion to gnomes, often the mythical guardians of treasures.
Originally built from terra cotta, the 3,000-pound sculptures were damaged by decades of freezing and thawing after they were pierced for the installment of required lightning rod protections, said Lynette Pohlman, director and chief curator of university museums. They were removed in early July. Hopes to display an original somewhere on campus were dashed, as they crumbled apart during the removal process.
"Each one came down in thousands of pieces," Pohlman said.
In their place are 400-pound aluminum replicas, painted to look identical but built to last. The new G-Nomes, which have lightning rod support systems inside them, were returned to their usual positions by crane Monday.
Pohlman said the replacement sculptures, commissioned about 18 months ago, were approved by Andrew Leicester, the artist who envisioned the numerous pieces that make up the G-Nome Project.
But they were built at the University of Northern Iowa's public art incubator under the direction of UNI art professor Tom Stancliffe. The incubator helps fabricate designed projects, giving students valuable experience and making public art more affordable, Pohlman said.
The G-Nome Project was controversial when first unveiled, but Pohlman considers it one of the best pieces of public art on campus and is pleased it has been restored.
"Our public art collection is to inspire learning," she said. "It's not a matter of liking it. It's a matter of education."