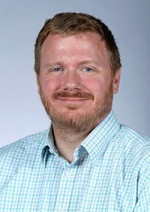 Dave Roepke (ROPE-key) has joined the university relations staff as a writer for the weekly faculty-staff publication, Inside Iowa State. Roepke fills a new position created following Diana Pounds' retirement this spring.
An Iowan by birth and graduate of Iowa State (B.S., journalism and mass communication), Roepke returns to Ames from the Fargo-Moorhead area, where he spent 13 years on the staff of the daily newspaper, The Forum, as reporter, news editor and, since 2013, news director.
The office of university relations is in Suite 201 of the Kingland Building at Lincoln Way and Welch Avenue. Roepke can be reached by phone at 294-4845, by email at dcroepke@iastate.edu.