Plates for you?
Collegiate plates in Iowa cost $50 to order (half goes to the school) and $5 to renew (in addition to normal registration and renewal fees). More information is online.
Iowa State employees are among the best at creating personalized Cyclone plates. They enjoy their jobs, they support their students, they're proud of their teams, they love their university -- and they figure out how to express that in two to seven characters. The Inside staff made another attempt to capture some of that good vibe this week (previous efforts are noted at the bottom of the page).
Following are some of the Cyclone plates we found around campus, and their owners' explanations of their significance.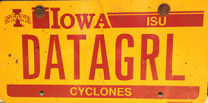 DATAGRL
I provide historic and current data about the incoming class and work with the enrollment research team on projections, student success initiatives and other projects. Hence, the plate reads "data girl." Once, a toll booth attendant asked me if I was a motivational speaker because he read it as "Dat A Girl!"
-- Kate Ralston, assistant director for research, admissions office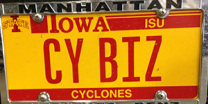 CY BIZ
I have this plate because I serve as dean of Cy's Business College. It also is in honor of the CyBiz Lab, our experiential learning initiative.
-- David Spalding, Raisbeck Endowed Dean and professor of finance, College of Business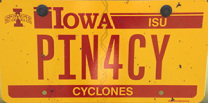 PIN4CY
It refers to the wrestling move. When my kids were younger and schedules allowed, we had season tickets for ISU wrestling, and even followed the team to nationals on several occasions. My wife and kids purchased the plates for my birthday. To add to the story, my father-in-law is a big supporter of the Hawkeye wrestling program and we renew our Cy-Hawk rivalry each year at the dual meet. When we roll into Iowa City, all those Hawk fans know we mean business :)
-- Jeff Klein, accountant, sponsored programs accounting
CYBRARY
When we moved to Ames for my position at the University Library, I suggested we get Iowa State license plates for our cars. I was (and remain) very excited about coming to ISU and the library and my husband, Wes, knew it. (As I learned later), he was surprised that no one else had selected CYBRARY -- so he did! I didn't know about all this until the plates arrived.
-- Beth McNeil, dean, Library Services
ST8OFMD
I think almost everyone figures it out; it means "state of mind." I've worked at ISU for almost 37 years and Iowa State is not just a place for academics, athletics or whatever anyone else thinks defines us. Iowa State is a way of thinking or a mindset … in other words, a "state of mind."
-- Jane Stowe, secretary, College of Engineering student services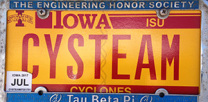 CYSTEAM
We cogenerate at the power plant, meaning we produce steam that is used to heat and cool buildings as well as to produce power. This helps increase our plant efficiencies. After I got the license plate, somebody asked me if it was CY STEAM or CY'S TEAM -- and I guess it could be that as well. I am proud to be a staff member as well as a graduate student here at Iowa State.
-- Lindsey Wanderscheid, assistant director of utilities production, facilities planning and management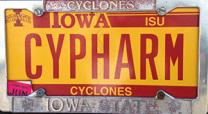 CYPHARM
My plate is based on my role at the university as a pharmacologist.
-- Steve Carlson, associate professor of pharmacology in the biomedical sciences department, College of Veterinary Medicine
Previous license plate stories
License plates with a story, July 19, 2012
License plates that stump us, June 29, 2006