Spring demolitions will clear Student Innovation Center site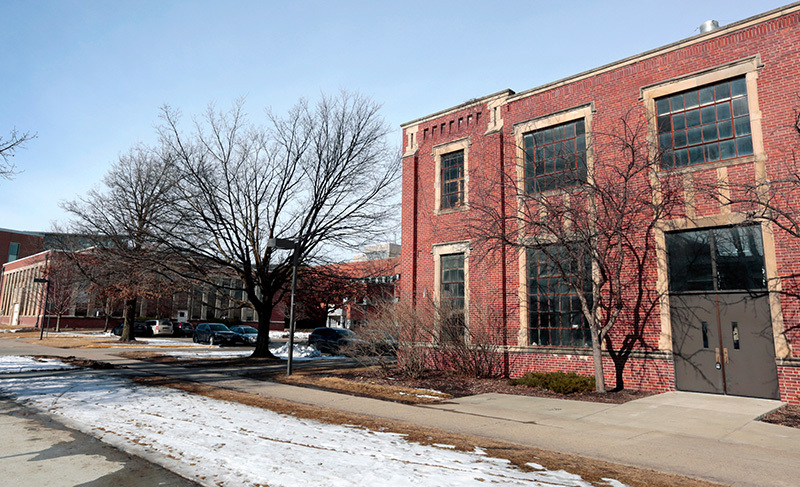 When it's completed in 2020 north of Hoover Hall, the $84 million Student Innovation Center won't just change the west campus skyline. It has triggered a re-do on the function and layout of Bissell Road on its west flank, and most importantly, it will improve how Iowa State students learn.
Learn more
Presentation and Q&A on west campus development plans:
Feb. 15, 4:10 p.m., 0308 Elings Hall
It also has compelled campus planners to remove two outdated buildings to create space for it. Around April 1, demolition will commence on two 86+ year-old sections of Sweeney Hall and the 83-year-old Nuclear Engineering Lab. The last tenants in both will be relocated to other campus spaces by the middle of this month, some temporarily until they move to the Student Innovation Center.
Here's a bit of history about these two sites.
Nuclear Engineering Laboratory
The building acquired its current name in 1959 when the university installed a nuclear reactor for teaching and research purposes. Iowa State previously offered bachelor's, master's and doctoral degrees in nuclear engineering; today the mechanical engineering department offers a nuclear engineering minor.
The reactor, with just a 10-kilowatt capacity, was in service from 1959 to 1998, typically at about 1 watt. It operated on three kilograms (about 6.5 pounds) of uranium, but in nearly 40 years of use, it consumed less than one gram, said ISU's radiation safety manager Scott Wendt, who received two nuclear engineering degrees from Iowa State. The remaining uranium left campus in two shipments (1998 and 2000) and the reactor was deconstructed in the summer of 2000, following the proposal submitted a year earlier to the U.S. Nuclear Regulatory Commission (NRC). The decommissioning included removing any soil beneath the reactor floor that contained radioactivity.
Once the reactor was gone, the entire building was scanned for radioactivity as part of the decommissioning. The NRC completed its review of the process and in 2003 informed university officials that the facility and the site were suitable for unrestricted use. Wendt noted that this is the highest clearance possible from the NRC.
For the last 13 years, the building has housed mechanical engineering faculty research labs, emeritus faculty and graduate student offices; and student organization work spaces such as space mining, robotics and vehicle racing teams. It also was the administrative home of the Information Assurance Center.
The building was constructed in 1934 as the Agricultural By-Products Laboratory for the federal government and first repurposed (and renamed) West Chemical Engineering in 1946.
Old Sweeney, or the original Chemical Engineering
The two southeast sections of Sweeney Hall date back to 1927 and 1931 and were known then as the Chemical Engineering Building. (The building complex was named for former department chair Orland Sweeney when the 1964 section was completed.)
The 1927 two-story building, designed primarily for research, had an open center with a partial second-floor balcony and a firehouse-type brass pole for quick descents. The open area accommodated tall equipment used for pilot plant research in agricultural waste. Its one-story north addition (1931) originally contained two labs, offices and a classroom.
Most recently, the oldest two sections of Sweeney were home to industrial and manufacturing systems engineering faculty research labs and graduate student offices, and student organizations including the solar car team and Gaffer's Guild.
The 1964 and 1994 sections of Sweeney will remain in place.
Related stories:
New building will be a student-centered collaboration zone, Jan. 12, 2017
Regent decisions scheduled for tuition, Student Innovation Center, faculty PDAs, Dec. 1, 2016