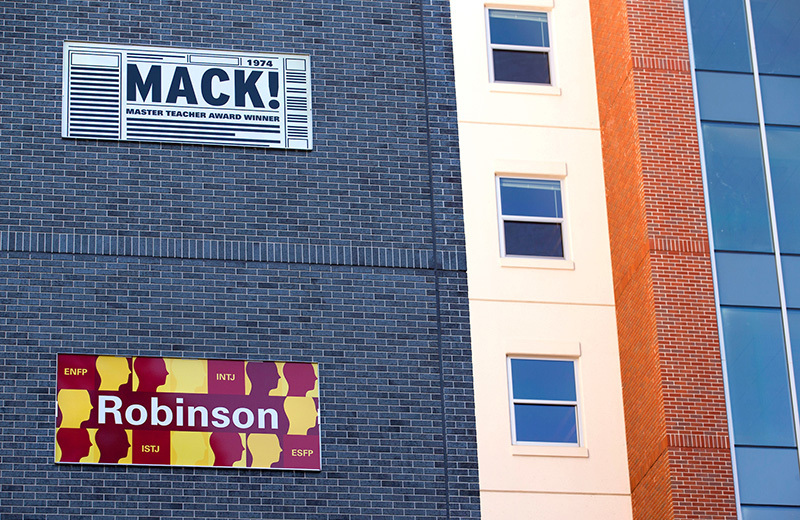 Keeping with an Iowa State tradition, students who move into the brand new Geoffroy residence hall in early January also will make their home in one of 14 "houses" -- the east or west half of seven floors named for individuals we're proud to call Iowa Staters.
The 14 individuals were selected last spring; five by the residence department's leadership team and nine by a task force of residence staff and Inter-Residence Hall Association (IRHA) students. Both teams started with the same list of about 35 possibilities, culled from sources that include the university's residence and student affairs histories and an index of retired house names from former residence halls.
It's a list of "really fantastic people on various levels of outstanding," said junior Wes Elias, 2015-16 IRHA vice president and a selection team member. "If we could have given a floor to all of them, we would."
Forced to make choices, he said the group sought some balance in gender, ethnicity, cultural diversity and time periods. The oldest honoree, Scotsman and acting college president James Geddes, died in 1879. Recently retired faculty members Dan Robinson and Larry Ebbers also are honored.
Susan Presto, a hall director for the residence department who will be reassigned to Geoffroy Hall, also served on the committee.
"A student's identity is very much tied to the house, and they take a lot of pride in their houses," she said. "A pop culture comparison is the house system at Hogwarts [of 'Harry Potter' fame]."
She explained that each house -- approximately 50-60 students -- has its own leadership team, funds and programming.
"I was very honored to be part of this group. We wanted to be sure the people we chose were individuals our students would look up to," Presto said.
As part of the assignment, Presto, Elias and their colleagues suggested a graphic for each house sign that represents that individual. A student in the department's marketing unit developed and refined the signs over the summer, and they were produced and installed in September. For example, the puzzle pieces on the Ebbers sign speak to his ability to connect people and resources. The front page look to the Mack sign reminds us of professor Barbara Mack's expansive career in journalism as reporter, lawyer and educator. Alas, attempts to paint Kellogg employee Mildred Day's name as Rice Krispie treat letters washed out and the team settled instead on images of baking tools.
The Geoffroy houses
Following is a nugget about the lives of the 14 house honorees at Geoffroy Hall. The boldfaced name is illustrated on the exterior house signs:
Dorothy Bean (1912-99), first Iowa State library curator and founder of the university's history collection
Clifford Berry (1918-63), alumnus, as an electrical engineering graduate student, co-invented the electronic digital computer with faculty member John Atanasoff
Lauro Cavazos (b. 1927), alumnus, Texas Tech University president (1980-88) and U.S. Education Secretary (1988-90)
Mildred Day (1903-96), alumna, recipe tester for the Kellogg Co., and co-creator of the Rice Krispie treat
Vine Deloria Jr. (1933-2005), alumnus, author, history and law professor, and a leading Native American spokesperson
Larry Ebbers (b. 1941), alumnus, spring 2016 faculty retiree (School of Education), former coordinator of ISU residence life and University Professor who led initiatives that strengthened community college education
James Geddes (1827-87), Scotland native, Civil War veteran, war song lyricist and holder of numerous Iowa State titles (1870-87): steward, professor, acting president, treasurer, recorder and land agent
Elizabeth Hoyt (1893-1980), economist, social scientist, faculty member (1925-80) and creator (1915) of a cost of living index that later developed into the Consumer Price Index
Ted Kooser (b. 1939), alumnus, poet who served as U.S. Poet Laureate (2004-06) and recipient of the 2005 Pulitzer Prize for poetry
Barbara Mack (1952-2012), alumna, newspaper reporter, attorney, journalism faculty member (1986-2012) and assistant to the ISU president (1991-94)
Samuel Massie (1919-2005), alumnus, member of the Manhattan Project research group at Iowa State, premier chemist, first black professor at the U.S. Naval Academy
Dan Robinson (b. 1947), alumnus, diversity advocate, Cyclone offensive lineman and summer 2015 faculty retiree (School of Education), first African American at Iowa State to earn the titles of department chair, assistant dean and University Professor
Charlotte Roderuck (1919-2007), food and nutrition faculty member (1948-88), associate dean of home economics (1975-78) and director of the former World Food Institute (1977-88) who paved the way for women scientists
Lois Tiffany (1924-2009), alumna, faculty member (1950-2002) and first female Distinguished Professor in the College of Liberal Arts and Sciences, informally known as "The Mushroom Lady" for her research focus