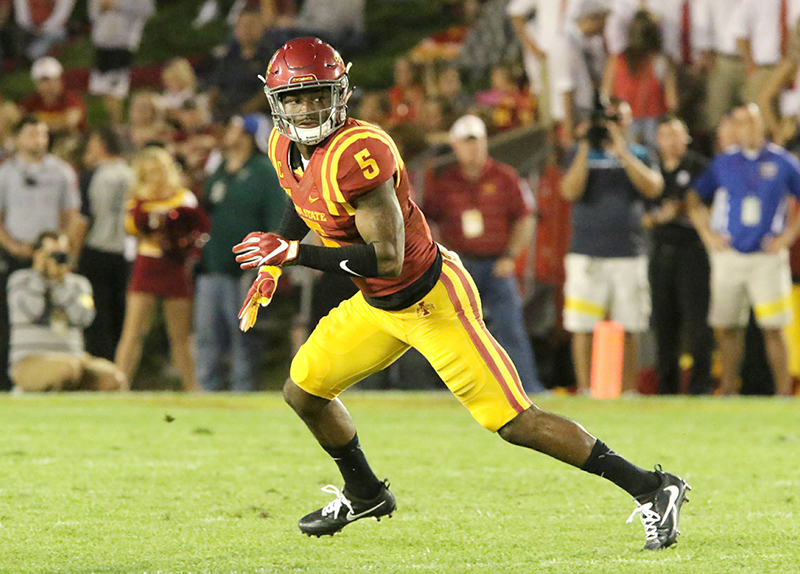 Give thanks, Cyclone fans. Several Iowa State teams have home games over the next two weeks and some of the tickets are available at reduced prices.
The Cyclone football team wraps up its season with games in Jack Trice Stadium on the next two Saturdays. Faculty and staff can purchase $15 tickets for the Nov. 19 matchup with Texas Tech, and $10 tickets for the Nov. 26 season finale against West Virginia -- available at the athletics ticket office (Olsen Building) or through Ticketmaster by using the "CAMPUS" offer code. All fans can purchase $10 tickets for the West Virginia game during a 24-hour "flash sale" that begins at 9 a.m. on Monday, Nov. 21.
ISU and other college students can show their university IDs at the athletics ticket office to purchase $5 tickets for student section seating at either game.
Limited tickets are available for the Nov. 20 men's basketball game vs. The Citadel, but the Dec. 1 game against Cincinnati is sold out. Fans can check the Ticket Exchange website for authorized ticket resales.
Tickets are available for all three women's basketball games, including the Nov. 20 matchup with intrastate rival Drake. Discounted general admission tickets ($3) are being offered for the Nov. 22 and Nov. 27 contests. The Cyclone volleyball team, currently riding a six-game win streak, closes out its season at home Nov. 26 against Oklahoma. Fans can use their Cyclone football tickets for $2 admission to the match.
Upcoming Cyclone athletics home games
Nov. 19, Football vs. Texas Tech (2:30 p.m., Jack Trice Stadium), $15-$65
Nov. 20, Men's basketball vs. The Citadel (1 p.m., Hilton Coliseum), limited tickets available
Nov. 20, Women's basketball vs. Drake (6 p.m., Hilton Coliseum), $5-$12
Nov. 22, Women's basketball vs. Savannah State (7 p.m., Hilton Coliseum), $5-$12
Nov. 26, Football vs. West Virginia (2:30 p.m., Jack Trice Stadium), $10-$65
Nov. 26, Volleyball vs. Oklahoma (8 p.m., Hilton Coliseum), $5
Nov. 27, Women's basketball vs. Arkansas State (2 p.m., Hilton Coliseum), $5-$12
Dec. 1, Men's basketball vs. Cincinnati (8 p.m., Hilton Coliseum), sold out