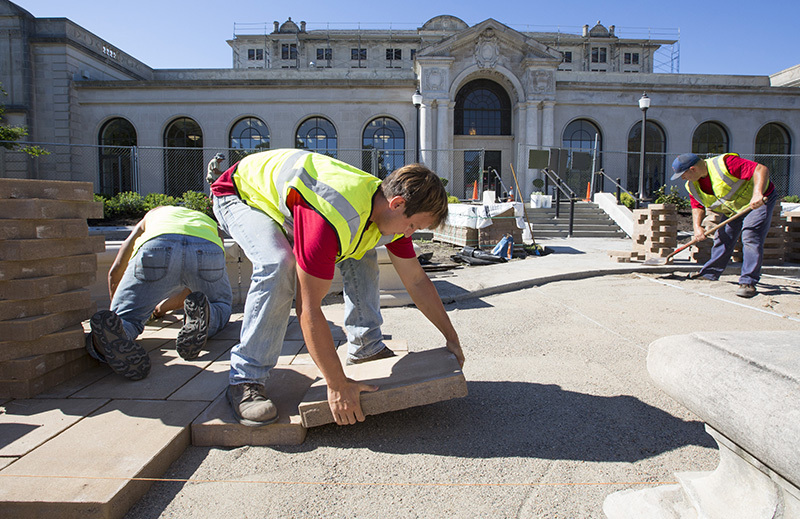 Work on the plaza surrounding the Fountain of the Four Seasons on the Memorial Union's north side is aimed at early August completion.
The renovation is part of President Steven Leath's campus beautification initiative and is the second phase of an area project that started with construction of the Iowa State University wall on the north side of Union Drive. The location became an instant favorite for photo backdrops.
Rhonda Martin, landscape architect in facilities planning and management, said the project's fountain plaza and wall area are complementary, including the cardinal and gold landscaping.
"I count myself lucky to have two such vibrant colors to work with when designing the planting beds," Martin said. "It made my job so much easier because I get to incorporate red roses and peonies, mixed with gold coreopsis and blanket flowers -- to name a few of the selections -- in the landscape. Now I'm hoping people will stand back and say, 'Wow, what a difference!'"
Final touches
The plaza's stone benches were set and capped. Installation of the pavers and the remaining sidewalks should be complete by the end of this week. Landscaping will wrap up next week as materials arrive. Irrigation also is scheduled to be installed next week, followed by placement of sod grass.
The protective covering for the fountain was removed Tuesday, revealing Christian Petersen's iconic sculpture. University Museums had art conservator Francis Miller work on the maidens while the fountain was out of service. A fresh coating will be applied to the pool when the fountain is winterized.
Related stories