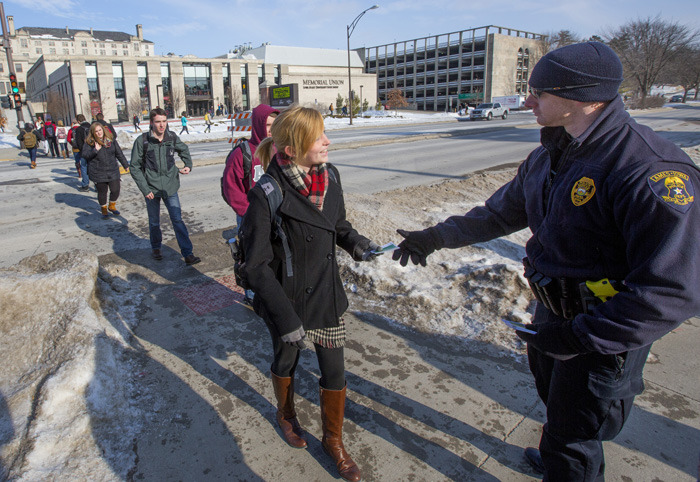 Ames police officers and volunteers from the Campustown Action Association took to street corners along Lincoln Way Monday to launch a "Bike Walk Drive SMART" education campaign. The intent is to remind pedestrians, bicyclists and drivers to look out for each other and make choices that keep everyone safe.
Officers were stationed at corners from Ash to Hayward avenues.
"We hope this is a shared effort, because it is all of us. It's about respecting others who are crossing where we are," said Ames police chief Charles Cychosz, who handed out SMART cards at Welch Avenue and Lincoln Way at midday. "Conflicts can be resolved with a little respect and thoughtfulness. Anybody can make a mistake, but if we're looking out for each other, we can avoid a tragedy."
He noted that the prevalence of headphone and smartphone use by walkers, drivers and cyclists adds a different layer of danger to normal traffic interactions among those groups.
Cychosz said Ames' SMART campaign is based loosely on a "Walk Smart" campaign at the University of Maryland.
"Our issues are broader than walking," he said. "We've heard concerns from drivers, bicyclists and pedestrians."
What does it mean?
The acronym SMART stands for:
Share the road
Make yourself visible
Always be aware
Respect each other
Take your time
While city and university leaders have talked about safety along Lincoln Way for some time, Cychosz said the death last month of an Iowa State student brought some urgency to the discussion. A predawn hit-and-run accident at the intersection of Lincoln Way and Ash Avenue on Dec. 14 killed Iowa State freshman Emmalee Jacobs.
More to come this spring
Cychosz said Ames has lots of traffic incidents involving bicycles. For that reason, his staff will be back on Lincoln Way corners "when the bicycles come out in the spring," he said.