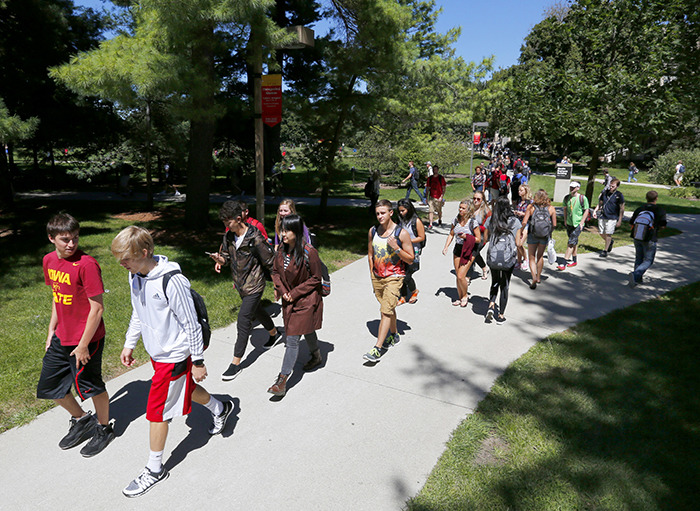 Iowa State's enrollment prediction was spot-on. The university's fall 2015 enrollment of 36,001 is the largest in school history, an increase of nearly 3.7 percent (1,269 students) over the previous record of 34,732 in fall 2014.
It's the seventh year of record enrollment and the ninth consecutive year of growth at Iowa State. In the last decade, overall enrollment has grown 40 percent. The student body represents every Iowa county, every U.S. state and 118 countries.
More Iowa undergraduates are attending Iowa State than ever before: 19,285 students, or 64.2 percent of ISU's undergraduate student body, are Iowans. Overall, 21,064 Iowans attend ISU, also a record.
"Our enrollment is demand-driven," said President Steven Leath. "We're proud to continue to educate more Iowa students than any other institution in the world. Students are choosing Iowa State because of our renowned faculty, our supportive culture and because we offer the programs that are driving our economy. Our enrollment strategy has remained the same, and that is our steadfast commitment to our land-grant mission."
Nearly 95 percent of Iowa State graduates are either employed or pursuing further education within six months of graduation.
Iowa State's freshman class of 6,231 students includes 3,586 Iowans (both records).
Iowa State's first-year, full-time student retention rate jumped a full point to 87.4 percent, well above the national average and just under ISU's record of 87.7 percent set in fall 2011. The average ACT score for new freshmen also has increased the last two years, to 25.09 in fall 2015.
By the numbers
Iowa State's student numbers set records in the following categories this fall:
Record undergraduate enrollment of 30,034, an increase of 1,141 students from last fall's record of 28,893.
Record graduate enrollment of 5,096, an increase of 146 students from the fall 2014 record of 4,950.
Record international student enrollment of 4,041, an increase of 13 students from last fall's record of 4,028.
Record diversity. Total U.S. multicultural and international enrollment is 8,366, or 23.24 percent of the student body. (The previous record set in fall 2014 was 8,093, or 23.3 percent of the student body.)
U.S. multicultural enrollment is 4,325 (12 percent of total enrollment), a new record and an increase over last fall's 4,065 students.
Record U.S. multicultural enrollment among new freshmen: 888 students, up from last year's record of 802. Multicultural students represent 14.3 percent of new freshmen at Iowa State.
Record total Iowa resident enrollment of 21,064, up 804 students from last fall.
Record Iowa resident undergraduate enrollment of 19,285, up 807 from last year's record of 18,478.
Record total U.S. nonresident enrollment of 10,609, up 414 students from last year's record of 10,195 students.
Record U.S. nonresident undergraduate enrollment of 8,611, up 398 students from last year's record of 8,213.
Record U.S. nonresident new freshman enrollment of 2,369, up 129 students from last year's record of 2,240 students.