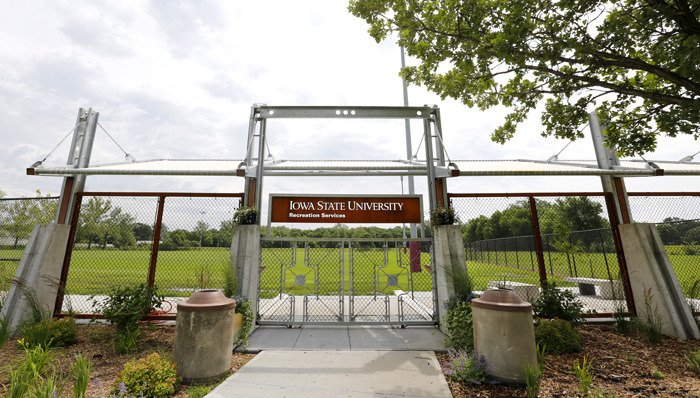 To you or me, it looks like a nicer-than-most entry gate to the two recreation fields bookended by the Lied Center and University Boulevard. But to a team of 32 College of Design students, it represents 15 weeks of planning, problem-solving and get-your-hands-dirty hard work.
For the second consecutive spring, architecture professor Bruce Bassler's design studies studio, an optional course for fourth- and fifth-year students in the college, designed and installed an outdoor feature for Iowa State's recreation services. The entrance pavilion southeast of the building includes a new gate, shade canopies, signage, plantings and a paved gathering area inside the gate for student groups using the fields. Last spring, students built a pavilion/water station at the Southwest Recreation Complex.
Over the 19 springs Bassler has led the class, his students have constructed nearly $900,000 worth of projects for clients on and off campus, as far away as South Sioux City, Nebraska.
"We battle snow, rain and cold, but we have never not completed a project on time – and on budget -- in 19 years," Bassler said.
Academics-student affairs connection
Recreation services' associate director Garry Greenlee called the partnership a win-win, saying his department loves to partner with academic departments.
"We're all here for the students, so this is a good tie for us," he said.
The partners teamed up less than a month before the start of the spring 2014 semester. A planned class project in an Urbandale park was postponed by city leaders, forcing Bassler to punt. A friend and fellow ISU employee suggested he inquire with Greenlee, who was happy to develop a few project ideas on a tight deadline.
Greenlee said the projects completed by the Design students would get done otherwise, but not to the same extent. "The students take it and make it really special. The value we get is great," he said.
He also estimated that with student design and installation labor provided, and some materials donated for the academic project, his cost might be one-third of what he'd pay on the market. To keep the approval process as short and simple as possible, the budget for each project is $25,000.
Problem solving, on a deadline
In a 15-week period, the students:
Meet their client and ask questions about the project
Put together a design proposal that includes costs
Seek client and ISU (facilities planning and management) approval for the design
Produce the construction documents and cost estimates
Seek FPM approval for construction
Order materials
Fabricate pieces as needed (some prefabrication occurs at a rented warehouse off campus)
Complete on-site construction
Host a final presentation and grand opening on the Saturday of dead week
Through the process, Bassler said students learn to manage both budgets and time, and to grasp the relationships among design decisions, constructability and construction costs. But perhaps the greatest learning takes place in solving problems, he said.
"We make mistakes and often have to think through our alternatives based on cost, time and quality. This is a valuable skill for students going into the design professions," Bassler said.
Next spring will be Bassler's 20th – and final – year leading the design studio. Greenlee said he'll propose a few projects to Bassler later this summer.
"I have ideas, but he knows best what will work," Greenlee said.