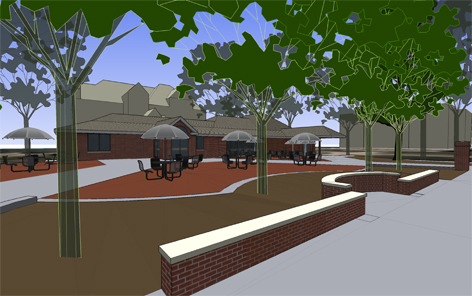 Commencement may mark the end of semester, but it also signals the start of a busy construction season. Among the many campus summer projects is an overhaul of the Hub's outdoor patio area.
"We had planned for the plaza to be built last summer, but the construction season got off to a slow start and we were worried the project wouldn't be finished in time for the start of the fall semester," said Chris Strawhacker, landscape architect in facilities planning and management. "So, we revised the construction schedule to start after finals week this year."
The $272,000 patio renovation begins next week and is scheduled for completion by the start of the fall semester. The Hub will be open during construction, with access via its east and south doors. At least one west door will be open -- on an alternating basis -- as work progresses.
The project will remove the existing retaining wall and extend the outdoor patio area to the sidewalk that runs south from Parks Library. Designated space for the free speech area is part of the design.
Among the renovation features:
Seat walls
Accessible ramp
Seated tables with umbrellas
Shade canopy
Brick entrance columns
"When the plaza is finished, the additional tables, the shade and better circulation into the Hub will be a great improvement for the area," Strawhacker said.