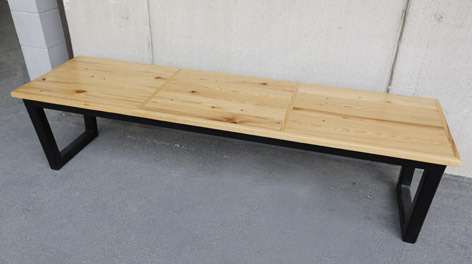 An idea to provide corridor seating for students waiting for class or tests -- or simply killing time between classes -- took flight this spring. A facilities planning and management (FPM) team designed a 6-foot bench of steel and recycled wood, Iowa Prison Industries created a prototype and associate vice president for facilities David Miller launched a partnership project to pay for the first 400 benches. His proposal targets 28 academic buildings with three or more general university classrooms.
"That's where the credit hours are being delivered, that's where the students are; so that's why we're focusing on those buildings to start with," he explained.
Each bench costs $500.
Miller committed facilities planning and management for 100 benches. The offices of the president, provost and senior vice president for business and finance are in for another 135 benches. Last week, Miller sent a note to all eight deans and the chief information officer, asking them to consider committing end-of-year funds for the remaining 165 benches.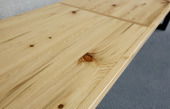 "It should be fun and it should have a positive impact on our students and make a difference in our buildings," he wrote. Deans may recommend locations for the benches they sponsor – including buildings, for example, that might be light on classrooms but contain heavily used teaching labs.
"Everybody can participate in this," Miller said. "This is about all of us doing something positive for our students."
Miller asked deans to respond by May 13 to his inquiry. The goal is to have as many benches as possible in place when fall semester begins Aug. 24. Depending on Iowa Prison Industries' production capabilities, some benches may arrive later in the semester.
Part of ISU's Campus Beautification initiative, Miller said the benches also will help declutter hallways. When they install benches, crews will remove the well-intentioned but mismatched furniture currently in some corridors.
That's Cyclone wood
The wood surface of the benches is recycled and will come from one of two university sources: oak in the Treecycle program or cypress that until recently was patio fencing in the Schilletter University Village student neighborhood.
"We think this is a win-win scenario," Miller said. "It's a nice clean design. The benches are durable, they contain recycled wood. It doesn't take a lot of money to participate, so a lot of units can do this and feel good about it."
To commit funds to the bench partnership project, contact Gina Holtzbauer, 294-8079, by May 13.