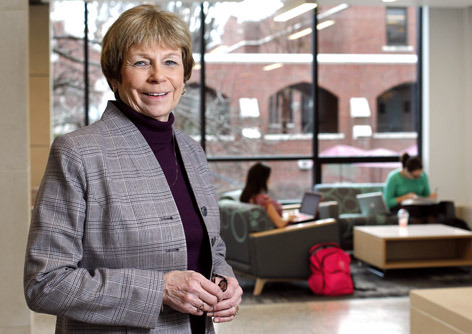 Marlene Strathe (pronounced "straight") became director of the School of Education on Jan. 1. She returns to her alma mater from Colorado State University, where she served as interim director of its School of Education.
Previously, Strathe served as provost and vice president for academic affairs at three public universities: Oklahoma State (2003-10), Northern Colorado (1998-2003) and North Dakota (1993-98). She also held several administrative posts at the University of Northern Iowa (1982-93).
Strathe served in key leadership positions on an interim basis, as Oklahoma State's president for a year (2007-08) and the University of North Texas at Dallas' provost for a year (2012-13).
Strathe earned four degrees from Iowa State: bachelor's degrees in bacteriology and government, a master's degree in psychology/counseling and higher education, and a doctorate in education with an emphasis in research and evaluation.
Strathe's office is 1620C in the newly renovated north side of Lagomarcino Hall. She can be reached by phone at 294-2336 or email at mstrathe@iastate.edu.