Project manager Kerry Dixon knows that renovating Iowa State's century-old buildings may turn up a few treasures. In the last decade, she's been involved in restoration projects for Morrill Hall, Curtiss Hall and State Gym.
What's been unusual about the interior demolition of Marston Hall, which began in earnest last month, is the volume of historical pieces discovered. Workers have recovered about a dozen pieces so far and Dixon expects to find more in the next two months as the building's interior structural support is reconfigured to create larger classroom spaces.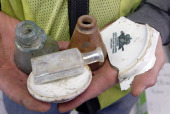 The pieces vary in size from several three-inch inkwells to a two-foot cider barrel. It appears they may vary in age from late 19th century to as "recent" as the 1930s. So far, the pieces have been retrieved from two locations: the building's attic, accessible only by a steel wall ladder on the fourth floor; or the dirt just beneath the building's six-inch concrete pad.
The former Engineering Hall was completed in 1903.
On display during February
Dixon said university archives will have dibs on any of the pieces it would like for its collection. Depending on the College of Engineering's plans, other pieces could be featured in an exhibit when the renovated building reopens. She said the College of Agriculture and Life Sciences is developing such an exhibit from the Curtiss renovation. In the near-term, the Marston pieces will be on display next month in a facilities planning and management public display case near 146 General Services Building.
Marston Hall's $27 million renovation, which includes all 60,000 square feet of the building, creates classrooms, student services offices and visitor and student spaces on the first two floors, and moves the college's administrative units to the top two floors. The project is being paid for by university and college funds (about two-thirds) and private gifts (about one-third). Dixon said work remains on schedule for an anticipated May 2016 move-in.