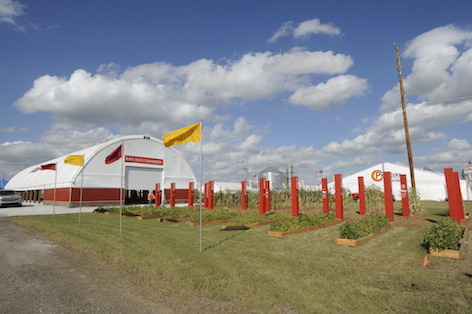 If you're having agricultural withdrawal after the Iowa State Fair, consider a trip to Boone Aug. 26-28 for the 61st Farm Progress Show. More than 600 exhibitors, including several Iowa State units, will showcase the latest farm equipment and technologies at the three-day event. The show site is located east of Boone at the intersection of U.S. Highway 30 and state Highway 17.
Show highlights
Visitors will browse exhibits featuring high-tech tractors, combines and farm implements; seed and crop protection products and equipment; new seed varieties; agriculture chemicals; livestock equipment and more. Daily field demonstrations, featuring side-by-side tillage techniques, Global Positioning Systems, tractor and combine performance comparisons, and cattle-handling demonstrations, are some of the show's popular highlights.
Iowa State exhibits
Iowa State will be well represented at the show with several exhibits and demonstrations throughout the grounds, including:
Beginning Farmer Center exhibit about farm transitioning (Wallaces Farmer Hospitality tent)
College of Agriculture and Life Sciences (CALS) and ISU Extension and Outreach (Iowa State tent, Seventh Street and Central Avenue)
ISU Extension and Outreach Forestry portable sawmill demonstration (North Avenue, east end)
ISU Cyclone Power Pullers demonstration (Central and East Avenues)
CALS online learning exhibit (Varied Industries tent)
Annie's Project farm management education for women (Rural Life tent)
University faculty and staff also will be stationed in the Iowa State tent during the three-day show addressing topics such as nutrient management, how to deal with production pests, and cover and biomass crops.
Iowa Secretary of Agriculture Bill Northey will visit the ISU tent Wednesday afternoon, Aug. 27, to discuss water quality initiatives. ISU President Steven Leath and CALS dean Wendy Wintersteen also plan to stop by Wednesday afternoon. Need some new ISU apparel? Visitors may purchase Iowa State merchandise from the University Book Store in the tent.
Ticket information
Daily tickets for the Farm Progress Show are $15 ($8 for students, free for those 12 and younger). Tickets may be purchased online or at the gate.