More than 900 student volunteers helped move new students into their residence halls on Tuesday and Wednesday (video story). The gold-clad move-in crews, able to transfer all of the contents from vehicle to room in just one trip, also welcomed newcomers, answered questions and offered directions as students arrived at their residence halls.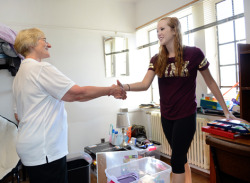 Campus "celebrities" also welcomed students and their families, passing out candy and meeting the new batch of Cyclones as they moved in. Pictured at right is Engineering dean Sarah Rajala introducing herself to Allison Jewell, a freshman animal science major from Mechanicsville.
Rajala wound her way through Friley Hall on Tuesday, with stops at learning communities in the Stanton (computer engineering), Spinney (chemical engineering), Chamberlain and Lincoln (electrical engineering, computer engineering), and Pennell, Palmer and O'Bryan (women in science and engineering) houses.
More than 12,400 students will live in residence housing this fall. Food trucks, faculty, classrooms and tech needs are among the other areas prepped for growing student numbers this fall. Photos by Amy Vinchattle.