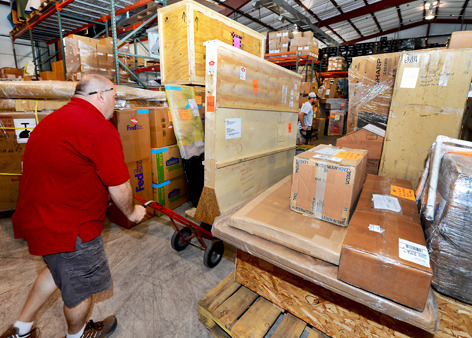 Odyssey of the Mind's world finals competition returns to campus for the eighth time May 28-31. Team props and supplies – nearly all marked "fragile" or "don't stack" or both -- have been arriving daily since May 13. They are being stored at the ISU Surplus warehouse on Airport Road until next week, when central stores crews will truck them all to various campus locations.
More than 800 teams, totaling 8,000 youth from elementary grades through college who have advanced at state, regional and national levels, will participate in creative problem-solving competitions. Accompanying them to Ames are 400 officials, coaches and judges, and more than 7,000 family members.
Competition sites
A majority of the guests will arrive Monday through Wednesday (May 26-28). The competitions will be held in auditoriums in Coover, Kildee and Music halls; classrooms in Pearson; the gymnasiums in Forker, auditorium stages at the Iowa State Center and the ballrooms in the Memorial Union. The main floor of Lied Center will host OM's creativity festival Thursday afternoon through Saturday. Evening activities will be held nightly at Hilton Coliseum.
Temporary changes to dining services
Many of the visitors will stay in residence halls and apartments and use campus dining centers. The participants will use CyRide to get around campus.
All of ISU Dining's summer locations will remain open. However, some locations will temporarily alter their hours and service styles to accommodate OM guests. The most noticeable change will be at the Memorial Union food court. From dinner on Tuesday, May 27, through breakfast on Sunday, June 1, the food court will operate as an all-you-care-to-dine buffet. Non-OM or non-meal plan customers will be charged a buffet price. OM guests also will be dining at the Union Drive Marketplace.
ISU Dining locations will return to normal summer service on Monday, June 2.
Departure
The competition wraps up Saturday afternoon, May 31. Teams will be leaving campus Saturday and Sunday.