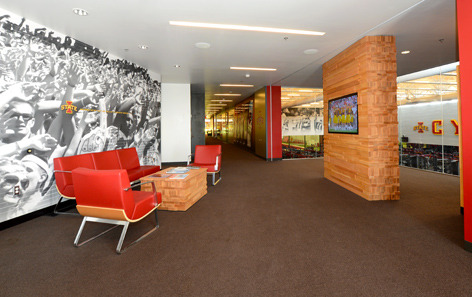 The Bergstrom Football Complex is Iowa State's seventh new construction project to be certified by the U.S. Green Building Council for meeting environmentally sensitive design, construction and maintenance standards. The facility, which opened in November 2012, received a silver certification in the Leadership in Energy and Environmental Design (LEED®) program. Only platinum and gold certifications rank ahead of silver.
The complex, home to the Cyclone football program, features a 12,000-square-foot weight training area, athletic training/rehabilitation area, team meeting rooms, team and coaches locker rooms and a coaches office suite. It is linked to the Bergstrom indoor training facility, which opened in 2004.
LEED measures achievements in five categories plus an innovation category and awards a credit total. The Bergstrom project scored 55 credits (of a maximum 110), which reflects these achievements in sustainability: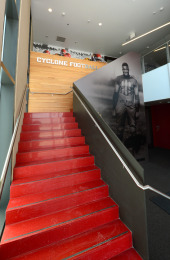 98 percent of the waste generated during construction was recycled, such as steel studs, drywall, cardboard packing and parking lot asphalt and concrete
Nearly 34 percent (by dollar value) of materials used in the building were manufactured with recycled materials, including the structural steel, window frames and crushed glass red stairs in the front foyer (pictured, right)
12 percent (by dollar value) of building materials were extracted and manufactured within 500 miles of Ames, including the concrete panels that make up the building's exterior skin
Low-flow shower heads, sink faucets, toilets and urinals reduce water consumption by 53 percent compared to a building designed to state code
A white membrane roof reflects the sun, reducing the building's "heat island" effect
The energy operating cost is nearly 22 percent lower than a code-designed building
Products used to finish the building, including paints, sealants and flooring, emit very low levels of gaseous compounds
The custodial team practices green cleaning
Three different CyRide routes service the facility frequently throughout the day
Bike parking and showers are available for commuters who pedal to the facility
No vehicle parking stalls were added to replace those lost to the building footprint
Iowa State's LEED®-certified projects:
Platinum certification: College of Design Pavilion (2010), State Gym (2012)
Gold certification: Biorenewables Research Laboratory (2011), Hach Hall (2011), Small Animal Hospital at the Lloyd Veterinary Medicine Center (2013)
Silver certification: Morrill Hall (2008), Bergstrom Football Complex (2014)
"Athletics is committed to supporting and advancing the university's sustainability initiatives," said Mike Andresen, manager of facilities and grounds for the athletics department. "We make every effort to be environmentally conscious in our building practices, our home events and our day-to-day operations."
The building met the university's certification goal, said Kerry Dixon, coordinator for sustainable design and construction in facilities planning and management. She noted that several considerations simply put some LEED credits out of reach. For example:
The location of the football complex places it outside the desired walking distance to campus housing and other community services such as a library, post office, churches and restaurants. LEED awards points for this "community connectivity," Dixon said.
Due to their functions, many of the spaces in the football facility (locker rooms, team meeting rooms where game film is watched) don't receive natural daylight.
The football stadium and buildings are not on the university grid, but rather purchase water and electricity from the city of Ames and natural gas from Alliant Energy. The university's highly efficient utility system uses the same fuel twice to produce heat/cooling and electricity.
In 2008, Iowa State set the goal of achieving LEED certification on all its building projects.
"On everything we've done, we met or exceeded the goal we set for that project," Dixon said.
Pending are LEED applications on the Hansen agriculture teaching facility, Troxel Hall and the Harl Commons and student services mall projects in Curtiss Hall.