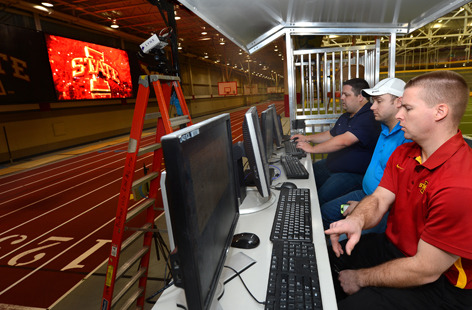 As teams and spectators arrive for the Bill Bergan Invitational at the Lied Recreation Center this week, a new high-definition video board will greet them from its perch on the north end of the facility. The system adds real-time action and results capabilities to the men's and women's indoor track and field event.
Bill Bergan Invitational
Thursday, Jan. 30 (noon-3 p.m.)
Friday, Jan. 31 (10 a.m.-3 p.m.)
Saturday, Feb. 1 (10 a.m.-5 p.m.)
Admission is free
Tentative schedule (PDF)
Teams: Iowa State, Iowa, Kansas State, Minnesota, North Dakota, North Dakota State, South Dakota, South Dakota State, Texas, Wisconsin
Three 20-by-12-foot panels comprise the display. The outside panels sport Iowa State athletics and Big 12 Conference logos. The middle panel has full video capabilities. Chris Jorgensen, senior associate athletics director for facilities, planning and management, said live action, meet results and introductory videos are among the possible displays.
"It's no different than the video boards at Hilton and Jack Trice Stadium, in that respect," he said.
ISU regularly hosts four collegiate meets and one high school event during the indoor track and field season. Jorgensen said Iowa State's Lied Center is the only Big 12 facility capable of hosting the conference indoor track and field championships and the video board is another investment in that meet.
Currently, the video board will be used solely for athletics events. Jorgensen said that could expand in the future for events such as the Iowa Special Olympics. The project cost an estimated $300,000.