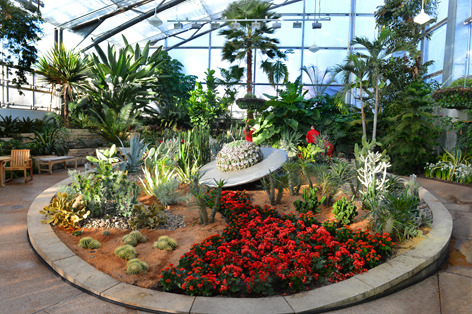 Tired of this winter's deep freeze? Take a trip to the desert Southwest without ever leaving Ames.
Reiman Gardens' 2014 theme, "A Garden Odyssey," is inspired by space and science fiction. Activities, exhibits and events will focus on aliens, the solar system, unidentified flying objects and more. A list of upcoming events and exhibits is on the Reiman Gardens website.
The theme's inaugural exhibit, "Crash Landing," is on display in the conservatory through April 12. It features a plethora of desert plants, including a variety of cacti and succulents among numerous other colorful, blooming flowers. The gardens' staff converted the conservatory into a desert environment by adding rocks and sand to the ground structure.
The exhibit is a nod to the purported 1947 extraterrestrial phenomenon that surrounds Roswell, N.M. The exhibit's centerpiece is a crashed space ship (soon, visitors will see an alien life-form inside the space craft). The unidentified flying object features a metal disc with a capsule encased with colorful desert flowers. The trail of red flowers that flows behind the craft represents its crash pattern in the desert soil.
Reiman Gardens is open daily from 9 a.m. to 4 p.m. Admission is $8 ($4 for kids 4 to 17; free for kids 3 and under).