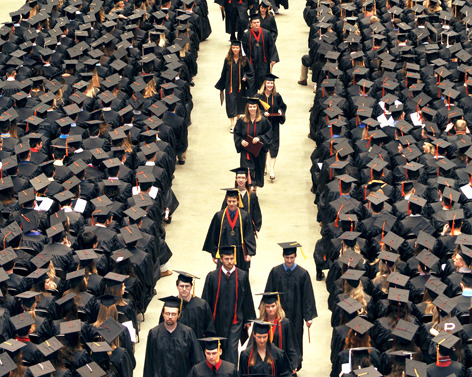 An estimated 1,819 Iowa State students are expected to complete degrees this fall and will be honored at graduation events this weekend. The feat marks the first time the list of fall semester degree recipients will top 1,800. The previous mark, 1,784 degrees awarded, was set in 2002.
The university will hold a single commencement ceremony on Saturday, Dec. 21 (1:30 p.m., Hilton Coliseum). Graduate and undergraduate students from all seven colleges are invited to participate. The invitees include an anticipated 108 doctoral, 199 master's and 1,512 bachelor's degree recipients.
Commencement speaker: Peggy Whitson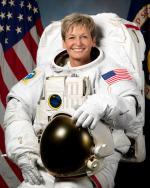 Iowa State will award an honorary Doctor of Science degree to NASA astronaut and Mount Ayr native Peggy Whitson. Whitson is being recognized for her contributions to the U.S. and international space programs, and for her service to young people, particularly as a role model for young women who pursue careers in the science, technology, engineering and math fields. She will give the commencement address.
Whitson was selected as an astronaut candidate in 1996 and completed two years of training. Over two missions, she spent a total of 377 days in space -- the longest for a woman -- aboard the International Space Station. The first, 185 days in 2002, included a four-hour spacewalk to install and check equipment. She was the commander of the second, 192 days in 2007, which featured five spacewalks. One of the astronauts who rotated in during her six-month stay was ISU alumnus and distinguished faculty fellow Clayton Anderson.
Whitson earned a bachelor's degree in biology and chemistry (1981) from Iowa Wesleyan College, Mt. Pleasant, and a doctoral degree in biochemistry (1985) from Rice University, Houston.
College events
Six of the colleges will honor their graduating students at ceremonies or receptions Friday evening or Saturday morning. The complete list of college events is on the registrar's website.
At approximately 4 p.m., following the all-university ceremony, ISU Alumni Association staff will host a free reception for all graduates and their families at the ISU Alumni Center.