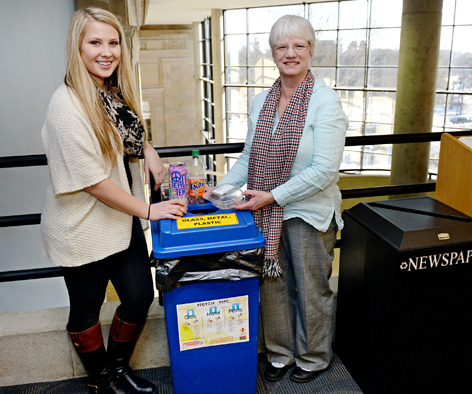 As a high school student in Racine County, Wis., she used to move her friends' soda bottles from the trash to a recycling bin, so Alyson Straube knows how to 'walk the walk.' The chemical engineering junior thinks the Government of the Student Body's director of sustainability post is a great fit for her interests.
"I wanted this position to try to make a difference," she explained. "We [Iowa State] do a really good job with sustainable projects, but the more we can do, the better."
Parks Library is testing another recycling program – with plastic, metal and glass food and beverage containers – through Jan. 31, thanks to work this fall by Straube.
How it works
Facilities planning and management provided the blue 32-gallon covered plastic bins for the food and beverage container recycling. One was added to each of the library's four floors, strategically placed next to that floor's newspaper recycling bin. Straube and a handful of student volunteers from The Green Umbrella student organization will empty the bin liners when they're full and carry the recyclables to an outdoor holding container at the Hub.
Items suitable for the new blue bins are:
Clear and colored glass bottles
Plastic bottles and food containers Nos. 1-7 -- including many microwave meal containers
Tin and aluminum cans
If you're unsure, read the guidelines on the recycling bin. Aluminum foil and plastic tableware (spoons, forks) aren't accepted for recycling. Ideally, all containers are empty.
As of July 1, Iowa State has a new vendor for its recycling contract, Ames Area Redemption Center. Its staff is collecting recycled materials from building loading docks. For the first time, the university is receiving a small fee -- ranging from $2 to $10 per ton -- for most of its recyclables. Currently, there is no charge for food and beverage recyclables.
High-traffic test
Straube said she targeted the library because it's a high-traffic building and because it has a café on site that generates lots of containers.
Library associate professor Kathy Parsons, who heads the building's access services, said higher enrollments have placed a bigger demand on Parks Library. The building is averaging just over 10,000 visitors each weekday this fall.
"We've seen an increase in trash in the building," Parsons said. "They're not any messier, there's just more people using the building and more trash.
"To her credit, Aly noticed that lots of it could be recycled," she added.
Parsons will monitor the recycling containers over the winter semester break to keep the pilot project active.
Like the university's white paper and mixed paper recycling programs, food and beverage container recycling is a self-service program; that is, building residents have to use their indoor bins and periodically empty them to an outdoor container where the materials can be picked up.
"If this test goes well, and the fact that it's free to the building, I'm hoping it will be easy to sell to the building people later this winter," Straube said.
Other recyclers
The library is not the first building to recycle food and beverage containers. It joins General Services, Physics, Zaffarano and Carver halls (2012), Spedding and Wilhelm halls, Metals Development and TASF (early 2013), and Beardshear Hall (September).
Director of facilities services Bob Currie said FPM will provide recycling containers for other campus buildings where there's an interest.
"The big thing is that people need to want to do this, since it's a self-service program," he said. "Each building needs its own cheerleader."
Work units that want to add another recycling option in their area and need additional containers should contact Currie, 4-1875, or recycling coordinator Sue Mallas, 4-0692, to get started.