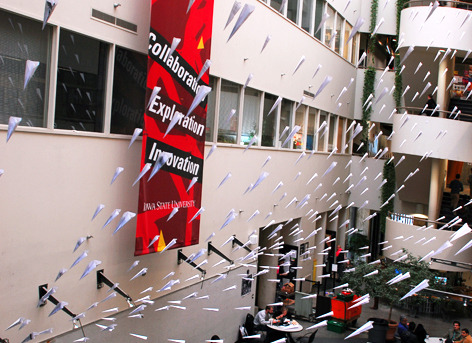 Landscape architecture senior and Honors student Qiyi Li endeavored to create an installation for her senior Honors project this fall. The result is a stop-you-in-your-tracks project that fills a good piece of the atrium at the College of Design. A Little Dreamer is 28 strings of paper airplanes, each plane folded from an 8.5 x 11-inch sheet of white paper – gathered from recycling bins -- and seemingly in flight.

Paper airplanes, she said, evoke a wide variety of childhood memories. Li was raised in Beijing, China, but also spent four of her preschool years in Fukuoka, Japan. She has memories of paper airplanes from both of those cultures. The airplanes, she said, represent different memories and messages for different individuals.
But her installation isn't all innocence. She also wants people to think about waste, particularly paper waste and the trees felled to create paper waste. Her 634 paper airplanes represent five seconds in the logging trade in which, worldwide, 126.8 trees are cut each second to produce paper.
A Little Dreamer
Through Dec. 21, College of Design atrium
Senior Honors project by Qiyi Li
634 paper airplanes (sheets retrieved from recycling bins)
7 fish lines per level connect to each of the atrium's 4 balconies
Associate professor of landscape architecture Michael Martin, who served as Li's independent study adviser, praised her work for altering how people experience the atrium space.
"This is a very narrow vertical channel that's square and linear," he observed. "The curved lines she has introduced reactivate the building. It's a wonderful way to re-experience what's already here."
Li and two friends spent four 12- to 15-hour days over the Thanksgiving break installing A Little Dreamer in the Design atrium. The planes originally were scheduled to be up for a week, but with a nod from college administrators they will remain in place through the college's commencement ceremony in that space on Saturday, Dec. 21.