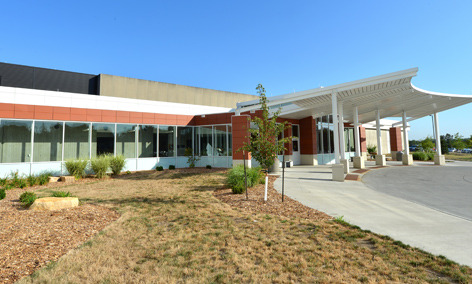 The renovation and construction that produced a state-of-the-art small animal hospital at the College of Veterinary Medicine has earned Iowa State another LEED® Gold certification, the second highest level in the green building rating system. The university strives for gold certification or higher on new building and major renovation projects.
LEED (Leadership in Energy and Environmental Design) was introduced by the U.S. Green Building Council in 1998 to measure environmentally sensitive building design, construction, operations and maintenance. The standards in this voluntary program are becoming more stringent as it evolves.
"We are certainly proud to be awarded the LEED Gold certification," said Dr. Lisa Nolan, the Dr. Stephen G. Juelsgaard Dean of Veterinary Medicine. "It was our vision to design a hospital to better serve our clients and patients while reducing the hospital's environmental footprint. The result is one of the most advanced veterinary teaching hospitals in the world and one that both conserves environmental resources and enhances our ability to provide exceptional care to our patients and to train future veterinarians. Truly a win-win for the citizens of Iowa."
LEED measures achievements in five categories and awards a credit total. The small animal hospital project scored 41 out of 69 possible credits.
"It's always a balancing act to develop the best facilities for the academic programs while doing it in a sustainable manner using high-efficient building systems," said Steve Prater, facilities planning and management's project manager for the small animal hospital. "The program requirements of a hospital have to be the first priority."
Challenges to gold
In this case, he said the college's remote location from central campus made LEED gold certification an especially satisfying accomplishment. Iowa State wasn't able to earn credits in several site-related categories that recognize a building's connection to its neighborhood, for example, service by multiple bus routes, shared parking and other integration with an existing community.
But the project scored well in the building materials, building energy systems and indoor air quality categories, including credit for leaving intact about 75 percent of walls, floors and roof of the former large animal hospital and for recycling or reusing 96 percent of the demolition and construction waste.
Other achievements that earned the small animal hospital its gold rating include:
Paints, carpets, adhesives and sealants used indoors emit no or low levels of toxins
By dollar value, 22 percent of the new building materials used have recycled content
For the first two years, 70 percent of the hospital's electricity will be provided by renewable sources (to help develop the "green" grid)
Low-flush urinals and toilets and low-flow sink faucets and shower heads reduce water consumption by 45 percent
Site landscaping features native and native hybrid plants and has no irrigation system
A heat recovery system captures the heat and cool from air that is exhausted eight times an hour from laboratories (air itself can't be reused), resulting in a 15 percent reduction in energy use
Refrigerants in the HVAC system are free of compounds that contribute to ozone depletion
Approximately 58 percent of wood building materials is certified (grown and harvested according to sustainable forestry standards)
About 22 percent of building products contain material extracted, harvested and manufactured within 500 miles of Ames
The faculty office building addition has energy-efficient features such as in-floor radiant heating, chilled beam cooling and exterior awnings that block the high summer sun but let in the winter sun
Small Animal Hospital, Lloyd Veterinary Medical Center
LEED® scorecard
| | | |
| --- | --- | --- |
| Category | Credits earned | Possible |
| Sustainable site | 5 | 14 |
| Water efficiency | 4 | 5 |
| Building energy performance | 8 | 17 |
| Sustainable building materials | 8 | 13 |
| Indoor environmental quality | 12 | 15 |
| Bonus credits: Innovation in design | 4 | 5 |
| Total | 41 | 69 |
Other Iowa State construction projects to receive LEED certification include the College of Design King Pavilion (platinum), State Gym renovation and addition (platinum), Hach Hall (gold), Biorenewables Laboratory (gold) and the Morrill Hall renovation (silver). The university will seek LEED certification for Troxel Hall, the football training complex, Curtiss Hall renovations, phase 2 of the biorenewables complex and Hansen Agriculture Student Learning Center.