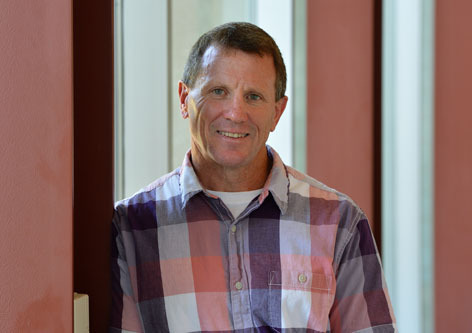 Position
Assistant manager of environmental programs in environmental health and safety
Years at Iowa State
15
Describe your work.
I manage several water quality programs -- storm water management and nondomestic waste water are two examples. ISU has implemented best management practices on construction sites to prevent soil runoff for areas with disturbed soils, and incorporated multiple low-impact storm water treatment features, such as retention ponds, bioswales, rain gardens and green roofs. There are several grass areas on campus that have been seeded with wildflowers to eliminate the use of fertilizers and mowing. We teach storm water quality classes to faculty, staff and students, and partner with student groups on campus involving water quality projects; two examples are installing storm drain intake markers and creek sampling.
What one word would you use to describe yourself?
Energetic.
What interests do you have outside of work?
It ranges from working on the family farm (a row crop and cattle farm in Otter Creek, north of Maquoketa) to training and competing in Ironman events. In the last 12 months, I've done two half Ironman races and am training now for my second full race.
What strengths do you bring to the P&S Council presidency?
I'm a believer in surrounding yourself with brilliant people -- let them do their tasks and keep those tasks on track. We have a fantastic group of people on this council. They're determined and they're positive -- I don't know how we can fail.
What is your top council priority this year?
My expectations of the council this year are to engage in a positive team environment, bring meaningful dialogue to each of the committees, create a high-energy council and keep a positive, solution-based teamwork environment. This council can continue to build credibility and create a valuable, determined work force and we can make a difference.
What challenges face the council this year?
That's a tough question. Without bringing positive, solution-based efforts, everything is going to be a challenge. If you can bring a solution to a perceived challenge, a positive outcome can happen.