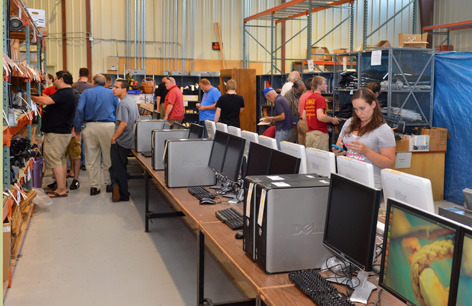 Desks, laptop computers, Elmo projectors, photography equipment, insulated coffee carafes, centrifuges. It was another afternoon of hunting for treasures Wednesday at the weekly ISU Surplus sale.
Used furniture and equipment (scientific, classroom and office) that's been removed from the university's inventory is sold at discounted prices on Tuesdays and Wednesdays at Iowa State's surplus and storage facility off of Airport Road in south Ames. The Tuesday sale (10 a.m.-noon) is reserved for ISU departments and state-funded offices. The Wednesday sale (noon-3 p.m.) is open to the public.
Items at the surplus sale have a split ticket. If you decide to purchase an item, remove the bottom portion of the ticket and bring it to the checkout cashier. You must pay for your purchases with cash or a check.
ISU Surplus, a unit within Central Stores, sells large items – for example, vehicles or large quantities of an item – on a government surplus auction website, GovDeals. Check ISU Surplus' Facebook page for frequent updates on warehouse sale items and newly posted auction items.
The university surplus and storage facility is located east of the research park at 1102 Southern Hills Dr.
Photos by Bob Elbert.