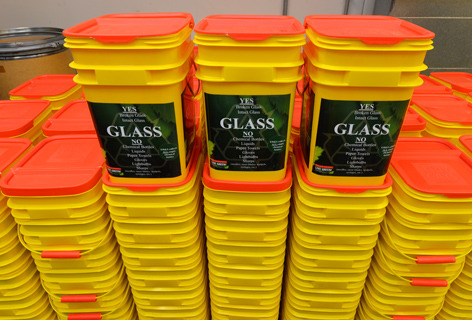 The request on campus last July for red-lidded Tidy Cats cat litter containers netted more than 50 buckets for a glass recycling pilot. It also got the attention of Purina, the owner of the Tidy Cats brand, which donated more than 1,000 buckets to the cause.
The yellow, plastic five-gallon buckets are part of the university's effort to help the city of Ames recycle glass. Keeping glass out of the garbage stream prevents mechanical damage at both the city's resource recovery plant and power plant.
Buildings in the new glass recycling program:
Bessey
Carver Co-Laboratory
Food Sciences
Gilman
Hach
ISU Surplus warehouse
Kildee
Metals Development
Spedding
Sweeney
Veterinary Medicine
Wilhelm
More than 500 Tidy Cats buckets have been dressed with an informational sticker and will be distributed to labs in 12 buildings -- so far -- that are participating in this more directed glass recycling effort. For years, Iowa State students and researchers have disposed of lab glass in designated cardboard containers. This separation, however, was a courtesy to save custodial staff's hands from lacerations rather than a recycling effort, and ultimately the glass wound up with other trash bound for the resource recovery plant.
With some 1,800 labs, Iowa State discards a lot of broken or used glassware, including pipettes, slides and petri dishes. For now, the revised laboratory glass recycling program is a voluntary one. Buildings may opt in by contacting ISU recycling coordinator Sue Mallas, 294-0692.
Director of sustainability Merry Rankin said glass has been added to the list of recycled materials for which the university actually is keeping count.
"We're starting to measure how much glass we recycle and we have developed this more formal system for doing so, including resources to keep it going," she said.
How-to video
Staff in the environmental health and safety department have prepared a 3-minute video on laboratory glass recycling to share some do's and don'ts with lab users. The lab buckets will be emptied into large yellow bins provided by the city and stored on building loading docks. Campus services staff take the large bins to the resource recovery plant once a week, where the city pays Iowa State (currently $45 per ton) for the waste glass.
The tale of the buckets
Amanda Jacobson, an intern in the university's Live Green program last summer, saw the virtue in the Tidy Cats containers: They are the right size, have a snap-tight lid that opens easily, promote the school colors, have a carrying handle and create a second use for containers destined themselves for the trash.
EH&S, the chemistry department, Live Green and facilities planning and management piloted the glass recycling program last summer. Campus and community cat owners donated more than five dozen empty buckets before Tidy Cats heard of the plan.
Tidy Cats donated 1,056 pails of the litter to Raccoon Valley Animal Sanctuary and Rescue, West Des Moines, which in turn shared them with 18 shelters throughout Iowa. The stipulation was that, once empty, the containers would be donated to Iowa State. So far, more than 500 empty pails have been returned to campus, with more arriving almost weekly.