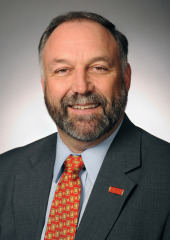 I join the Board of Regents in thanking Gov. Branstad for his funding recommendations for our three public universities. His recommendations reflect his confidence in the job we are doing in educating thousands of young men and women, in providing valuable research and in extending and applying our knowledge to help Iowa citizens.
The governor's recommendations directly address growing concerns about the impact college costs have on students and their families. He recommends general fund support that allows us to meet our needs without raising tuition next fall for resident undergraduate students. In addition, he recommends state support for student financial aid, which has not been provided to students in our public universities. The ISU Foundation is working to achieve our goal of generating $150 million in additional private funds over five years for student financial aid.
The governor's budget recommendation also includes $3.75 million for our biosciences initiative in fiscal year 2014, and full funding of $7.5 million in fiscal year 2015. This is a high priority for Iowa State and for the economic growth of Iowa.
Our ability to bring new technologies to market will be improved with the governor's recommendation of $3 million in the regent Innovation Fund.
-- President Steven Leath, Jan. 15
Board of Regents response to governor's budget proposal