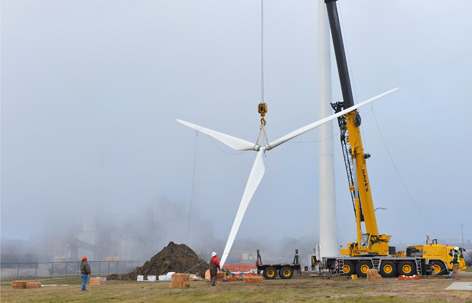 The blustery months of winter are some of the most productive for wind turbines. So the new wind turbine on the northeast corner of campus should be able to hit the ground running.
The blades of the turbine began generating kilowatts Wednesday, just two days after workers hoisted it into place.
The 160-foot, 100-kilowatt turbine sits between the university power plant and the CyRide facility.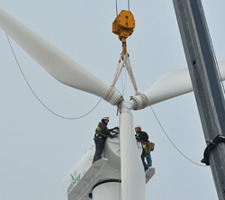 Iowa State owns the land on which the turbine sits, but PUREnergy of Ohio owns and maintains the turbine. Under the agreement with PUREnergy, Iowa State will take all of the power generated by the turbine.
That amounts to about 183,330 kilowatt hours of energy annually, which is similar to the amount of electricity consumed by Catt Hall, East Hall or the Hub. The turbine should produce about 0.12 percent or $18,000 worth of Iowa State's annual electricity needs.

Turbine facts
100 Kw unit rating
Manufactured by Northern Power Systems in Vermont
Blades are fiberglass-reinforced polyester (FRP)
Rotor diameter is 70 feet
Rotor will spin at 51 rpm at rated capacity
Hub height is 120 feet
Overall height: 160 foot tall, compared to 230 feet for the Power Plant stack and 168 feet for the Marston Water Tower
Wind turbine operating range is 7-56 mph wind speeds
Maximum power output is 31 mph wind speed
20-year anticipated lifetime
The university will purchase the electricity produced at a cost of $0.10 per kilowatt-hour
The concrete foundation is 27 feet in diameter and 4 feet thick and contains over 85 cubic yards of concrete