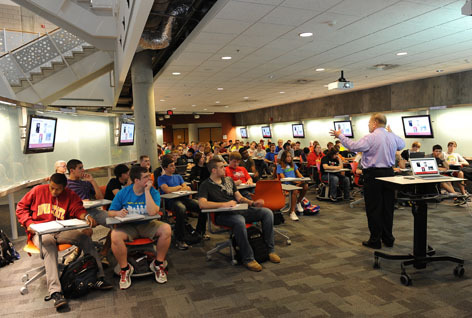 An area that once served as a popular napping spot in Howe Hall now boasts one of the most innovative teaching spaces on campus. An estimated 2,260 square feet of atrium lounge space has been converted into a "next generation interactive classroom."
The concept originated with Richard Wlezien, professor and chair of the aerospace engineering department; and Tom Brumm, associate professor in agriculture and biosystems engineering and professor-in-charge of online learning for the colleges of Engineering and Liberal Arts and Sciences.
"It's a one-of-a-kind classroom. You're not going to go anywhere else and see a classroom like this," Wlezien said. "We're going out of our way to be a nonconventional engineering classroom."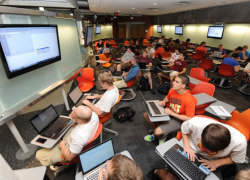 The new open-air classroom facilitates interactive breakout groups and instructor lectures. However, don't expect a typical "head-of-the-class" setup. Rolling chairs (in assorted, non-uniform colors) with ambidextrous desk attachments make group work or lecture setups easy. Custom glass-topped whiteboards line both sides of the space, and 12 video monitors are dispersed lengthwise along the whiteboards. A drop-down screen, projector and wireless microphone system also are built in.
Students can work in teams, plugging individual computers into their own video monitors. Or, Wlezien can broadcast his multimedia presentation on all of the screens simultaneously from his iPad as he circulates through the classroom.
Test run
A former NASA program director, Wlezien teaches two sections of Aerospace 160 -- an introductory course. When he arrived on campus two years ago, he wanted to create a space for his class of 120 students that didn't require booking a room across campus.
Wlezien took over the atrium lounge space and taught the course to students in folding chairs. Despite the undefined classroom space, he said the setup encouraged more participation and improved the retention rate of the course.
"The students got so used to working out in the open, that they actually preferred it," he said. "They seemed to learn better when there was a more open environment."
Strategic funds
Other projects
Facilities planning and management also is working on "active learning" classrooms in 2104 Gilman Hall and 213 MacKay Hall. The rooms feature similar rolling chairs, multiple whiteboards and upgraded electronics.
The class was such a success that the Engineering college, aerospace department and college online learning office partnered with the provost's office to utilize FY12 strategic initiative project funds to convert the space permanently. Des Moines-based Smith Metzger architect firm was charged with creating a unique space, partnering with staff from ISU facilities planning and management's project and construction management team to make it a reality.
"We didn't want a conventional classroom," Wlezien said. "We wanted to inspire creativity. We also wanted to inspire teamwork."
The finishing touches were put on the $250,000 project this week, and Wlezien moved his classes from the atrium lobby to the finished space on Oct. 22. He said demand for the classroom already is growing, and it might also be used for visitor presentations.
"Our hope is that if this works as well as we think it will, it's going to be mimicked in other places on campus," Wlezien said. "You can convert an open area into something very unique."