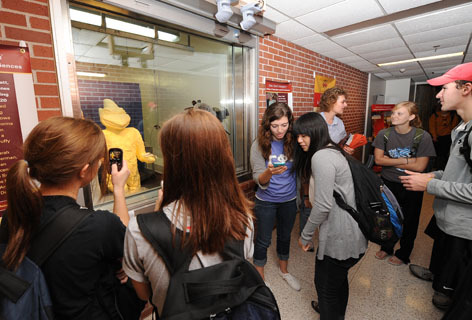 Game time is set and the celebration is well under way to mark the 100th anniversary of homecoming at Iowa State. The Cyclones kick off against the Baylor Bears at 6 p.m. Saturday in Jack Trice Stadium for the marquee event.
After three days of work, sculptor Sarah Pratt's life-sized Butter Cy is on display on the ground floor of Kildee Hall (follow the signs), Yell Like Hell finalists are set and people who purchased homecoming buttons are enjoying free lunch on central campus all week. And there are plenty more Cytennial events left to enjoy.
2012 Cytennial Homecoming: "Taking Ames by Storm"
Homecoming online
(Events are free, unless indicated)
Thursday, Oct. 25
11 a.m.-1 p.m., Food on campus (pizza, carrots, ice cream, root beer), $5 or free with homecoming button
Friday, Oct. 26
8 a.m.-5 p.m., "100 Years of Homecoming" exhibit, 403 Parks Library
8 a.m.-5 p.m., Butter Cy display, Kildee Hall atrium (follow signs)
11 a.m.-1 p.m., Food on campus (pulled pork, corn, cookies), $5 or free with homecoming button
1:30 p.m., Honors and awards ceremony, Benton Auditorium, Scheman Building
5-9 p.m., Pep rally and centennial celebration, ISU Alumni Center (free pizza with homecoming button)
-- Pep rally begins at 7 p.m.
-- Activities include carnival games, giveaways, Yell Like Hell finals and Cardinal Court recognition
8-10 p.m., "ExCYtement in the Streets" lawn displays, Greek neighborhood
8-10 p.m., Window lighting display ("100" and "ISU"), Maple, Larch, Wallace and Wilson residence halls
8 p.m., Brantley Gilbert "Hell on Wheels" concert, Hilton Coliseum ($30-37)
10 p.m.-1 a.m., Pancake feed, central campus ($3)
Midnight, Mass campaniling and fireworks, central campus
Saturday, Oct. 27
7:30 a.m.-6 p.m., Butter Cy display, Kildee Hall
1-5:30 p.m., Cyclone Central tailgate, ISU Alumni Center
6 p.m., Football vs. Baylor, Jack Trice Stadium ($40-$65)
Sunday, Oct. 28
8-11 a.m., Homecoming breakfast, American Legion, 225 Main St. ($5)