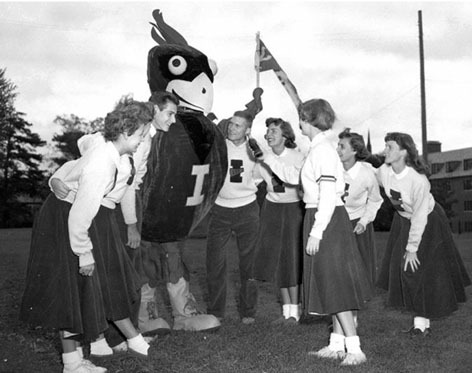 There's plenty to celebrate during Iowa State's "Cytennial" Homecoming, which marks the 100th anniversary of the annual event. This year's celebration, "Taking Ames by Storm," culminates with the Oct. 27 homecoming football game against Baylor. There are several early events planned to gear up for the main event.
History lesson
ISU professor and engineering vice dean Samuel Beyer suggested an alumni celebration for the 1912 Iowa State-Iowa football game. President Raymond Pearson embraced the idea and sent an invitation to alumni just two weeks prior to the game. Reportedly, more than 150 alumni returned to campus for the weekend events, which included tours, a university-wide "Beat Iowa" pep rally with cheers and songs, and an alumni reception on game day. A tradition was born.
Iowa State College in 1912
Homecoming score: Iowa State College 7, Iowa 20
Football field: State Field (Parks Library site)
Football coach: Clyde Williams
President: Raymond Pearson
Undergraduate enrollment: 1,815 (839 freshmen)
Deans: Charles Curtiss (Agriculture); Anson Marston (Engineering); Charles Stange (Veterinary Medicine)
Room and board: $8-$14/month
Tuition: Free for Iowa residents, $25/semester out-of-state
Find out more
State Fair flair
Sarah Pratt, sculptor of the Iowa State Fair's butter cow, will begin sculpting a life-sized butter Cy in Kildee Hall Oct. 22. Pratt apprenticed with ISU alumna Norma "Duffy" Lyon, who was widely known as the butter cow lady for 46 years. An estimated 300 pounds of butter will be used for the sculpture, which was commissioned by the College of Agriculture and Life Sciences.
Visitors can watch the sculpting process Oct. 22-26 (9 a.m.-3:30 p.m.) in the Kildee atrium. The viewing window of the cooler will be open from 8 a.m. to 5 p.m. daily during Homecoming week, and 7:30 a.m. to kickoff on game day. Homemade ice cream, made by the ISU Dairy Science Club, will be available for purchase from 11 a.m. to 1 p.m. daily.
Sign of the times
The alumni association has yard signs and posters available to promote this year's homecoming milestone. Fans can pick them up at the Alumni Center (420 Beach Ave.) from 8 a.m. to 5 p.m. on weekdays, while supplies last.
Will wear button for food
Homecoming buttons are on sale ($5) at the ISU Alumni Center and during Cyclone Central tailgates. The $5 collectible entitles the wearer to a daily free lunch (menus) on central campus during homecoming week and at the Oct. 26 pep rally. Buttons also can be purchased at the lunches and other campus locations to be announced.
Yell Like Hell
The first round of the annual Yell Like Hell competition is Sunday, Oct. 21 (11 a.m.-3 p.m.), on central campus. Second-round battles are Oct. 24 (6:30-8 p.m., Alumni Center), and the finals will be performed at Friday's pep rally. Introduced in 1963, the student skits are 5:30 long and must incorporate the homecoming theme and ISU fight song.
Painting the town
Cyclone spirit will take to the streets -- and windows -- of Ames on Sunday, Oct. 21. Organizations and clubs will participate in storefront window painting along (Main Street) and in Campustown (Lincoln Way, Welch Avenue) from 10 a.m. to 2 p.m. Victory Lane, located near Lot C6 at the Iowa State Center, will get a fresh coat of spirit from 2 to 6 p.m.