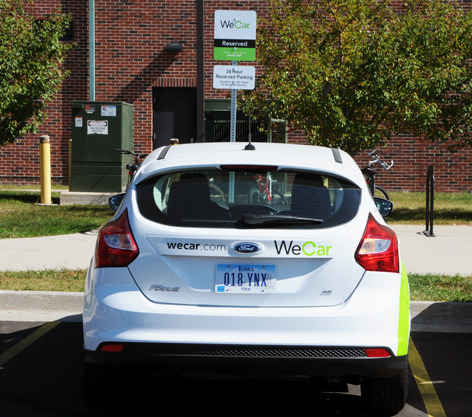 WeCar, a rent-by-the-hour driving option, begins its second year on campus next month. A division of the Enterprise car rental company, WeCar targets college students who don't own cars; however university employees are welcome to join, too. This is the second of a three-year contract between Enterprise and Iowa State.
Learn more
Contact: Jessica Francis, student marketing intern
Visit with her 3-5 p.m. Wednesdays, MU ground level, west student activities booth
All WeCar business is conducted online, including membership and reservations. Members receive an electronic key card, which, when swiped across the WeCar windshield, unlocks and locks the doors. The ignition key and a gas card are stored in the vehicle. Members reserve time online and must return the vehicle on time to the campus location from which they borrowed it.
"Word is spreading and people are amazed at how easy it is to use the system. It's all technology-driven," said ISU senior and WeCar marketing intern Jessica Francis. Membership at Iowa State has more than doubled this year over last, to more than 100 people so far, she said. International students especially are interested in a car-share option.
WeCar vehicles are designed for personal use, so the program is different from ISU transportation services, which leases vehicles for university-sponsored travel.
Join for free before Nov. 1
For anyone – student or employee -- who joins by Oct. 31, the one-time $20 application fee will be waived and the $35 annual membership fee returned to you in WeCar rental credit. The two-car fleet at Iowa State features fuel-efficient Ford Focus vehicles. One is parked in the lot west of Martin Residence Hall, the other in the RCA driveway on the east side of campus. Francis said a logical spot for a third car would be at the Schilletter-University Village apartment neighborhood north of campus.
The WeCar concept is built around sustainability (shared vehicles means fewer vehicles) and relies on members playing by the rules and meeting deadlines. It's intended to fill the rental car need particularly among 18- to 25-year-olds. Some rental car companies won't rent to them, period; others add steep "underage" fees that make the rental option cost prohibitive.
Membership requires a valid driver's license and a major credit card (to which your rentals are billed).
Rates unchanged this year
WeCar rental rates -- which include insurance and fuel -- remain unchanged from a year ago:
$8/hour on weekdays
$8.50/hour on Saturdays and Sundays
$35 overnight (6 p.m.-8 a.m.)
$56 for 24 hours
Each rental period includes 200 miles; additional miles are 20 cents/mile
Student proposal
"We've had a lot of great things spring from student proposals -- this is one of them," said director of sustainability Merry Rankin. Former student Mark Zikra developed a car-sharing proposal for a class project that became the starting point for discussions about bringing such a program to campus.