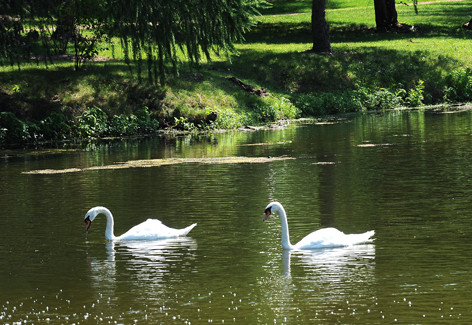 Realistically, we know that Lancelot and Elaine aren't the original pair of swans first introduced to Lake LaVerne in 1935. But it might not be common knowledge that both swans are female.
"We are 90 percent to 99 percent sure they are both females," said Cathy Brown, assistant director for campus planning in facilities planning and management. "It is difficult to verify the sex of swans, even for the experts."
Causing a stir
The current swans have created a buzz by nesting more persistently over the last five years. They started out nesting close to the lake, but branched out to more public spots near the sidewalks and the Memorial Union. Nick Van Berkum, communications specialist in the sociology department, filmed and posted a YouTube video of their nesting activities last year.
Although both swans are nesting, the eggs are not expected to be fertile and are not likely to hatch. Brown said FPM staff remove the eggs and disperse the nest after an appropriate amount of time.
"If we remove them too early, the swans will keep laying eggs later into the summer," Brown said. "This is a passive way to manage the swan population."
Swan evolution
A pair of mute swans was introduced onto Lake LaVerne in 1935. In 1995, the state Department of Natural Resources asked the university to try trumpeter swans as part of its efforts to reintroduce the once-native bird to Iowa.
In 1999, the use of trumpeters was discontinued because of their wandering (fearless of traffic) and aggressive nature, and were replaced by mute swans, which tend to spend more time on the water. Nonbreeding mute pairs are being used to prevent reproduction of the non-native species. FPM staff switched to this current female duo in 2003 after the male swans developed aggressive tendencies as they matured.