Honors and awards
April 2023
Meissner receives national mentoring award
Professor of psychology Christian Meissner has received the 2023 Gallagher Mentor of the Year Award from the National Postdoctoral Association. The award recognizes the very best of mentors across the nation who advocate for postdoctoral scholars; celebrate diversity, equity and inclusion values; and empower their postdoc scholars to succeed. Meissner was recognized for his 15 years of outstanding mentoring of postdoctoral scholars and his mentoring style, characterized by his peers as empathetic and empowering.
Iowa State receives Tree Campus USA designation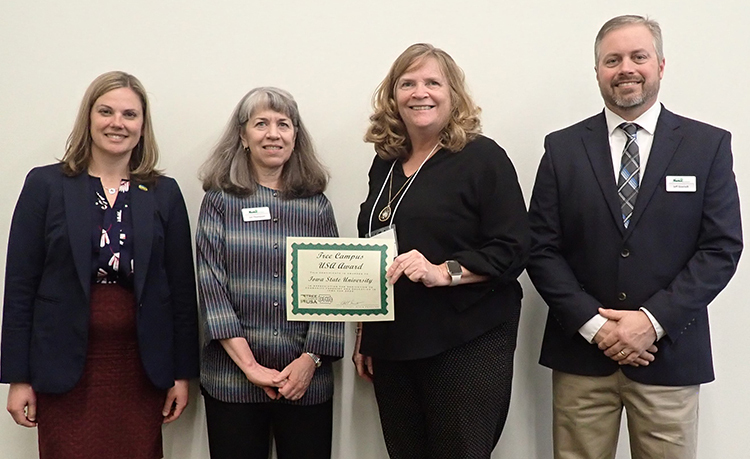 For the eighth consecutive year, Iowa State University has received the Tree Campus USA designation (2022), one of just seven in Iowa. The Arbor Day Foundation and Iowa Department of Natural Resources program honors colleges and universities for effective campus forest management and engaging staff and students in conservation goals. In their applications, schools address five standards: staffing a tree advisory committee, maintaining a campus tree care plan, dedicating annual expenditures for its campus tree program, and holding both an Arbor Day observance and student service-learning project.
Whitehead named architecture fellow
Rob Whitehead, associate professor of architecture, has been named a fellow of the American Institute of Architects, the institute's highest membership honor. The award recognizes architects who have made significant contributions to the profession and society and who exemplify architectural excellence. Just 3% of AIA members have received this distinction.
Ebbers named to leadership hall of fame
Larry Ebbers, University Professor emeritus in educational leadership and policy studies, was inducted into the first class of the American Association of Community Colleges' Leadership Hall of Fame as a recipient of the association's 2014 Leadership Award.
Sarkar receives wind engineering award
Partha Sarkar, professor of aerospace engineering, has received the Jack E. Cermak Medal from the American Society of Civil Engineers. The medal recognizes outstanding and cumulative contributions to research and/or practice in wind engineering. Each year, the recipient is invited to deliver the Jack E. Cermak Lecture at one of the society's national meetings.