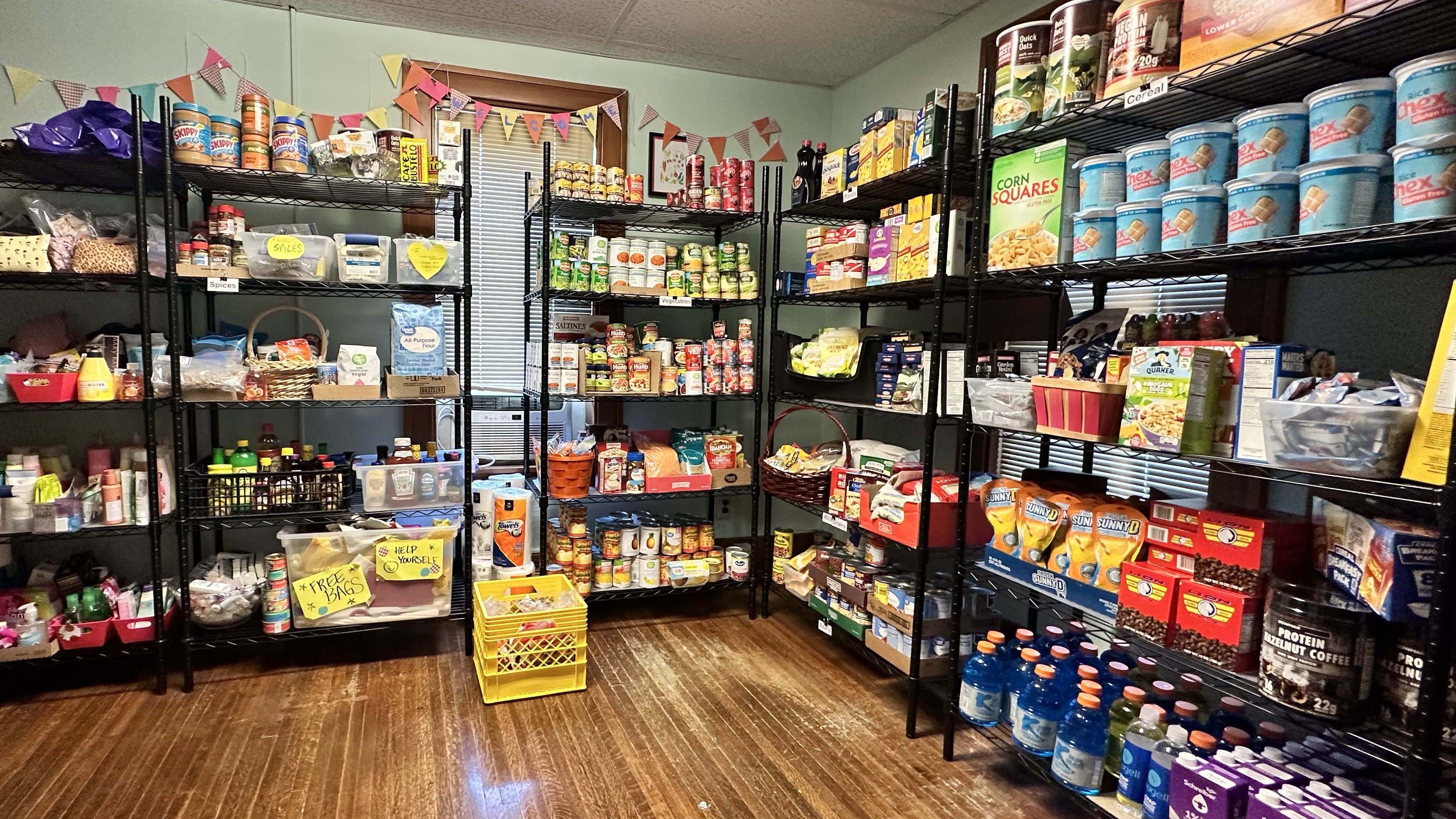 What started as an idea for a food and supply shelf in the front room of the Margaret Sloss Center for Women and Gender Equity evolved into the Sloss Resource Room. Open to all and fully stocked with nonperishable food, personal care items, parenting supplies, donated books and more, the Sloss Resource Room provides a new avenue for students, employees and anyone who needs it to give and receive.
Instant impact
5,884 pounds of food donated to SHOP and Sloss Resource Room from January to May 2023
$7,307 in-kind donations from community partners and individual donors between January and May 2023
More than 1,600 items provided to visitors since opening in March
SHOP partnership
The center's partnership with SHOP (Students Helping Our Peers) was vital to creating the Resource Room which acts as a satellite location for the student-run campus food pantry in Beyer Hall. Director Ruxandra (Sandra) Marcu said she always admired SHOP's work and approached its staff last summer with the idea.
"My vision from the beginning was that this would be a SHOP at Sloss," said Marcu. "It's very much a partnership where both sides said 'This is what I need and this is what I'm looking to create, how can we do that for each other?'"
Marcu said a decision was made early on to only have nonperishable items in the Resource Room instead of losing space by installing fridges and freezers. She sees the center's satellite location as an opportunity for more students to learn and spread the word about SHOP, which offers refrigerated items in addition to nonperishables.
Marcu said SHOP staff taught them what it takes to run a food pantry and started stocking the Resource Room shelves before it opened this spring. In exchange for the assistance, staff at Sloss are helping unload deliveries and stock shelves at SHOP.
"We wanted to create a partnership that's mutually beneficial, and I think we have," she said. "It could be a good model for other areas to replicate."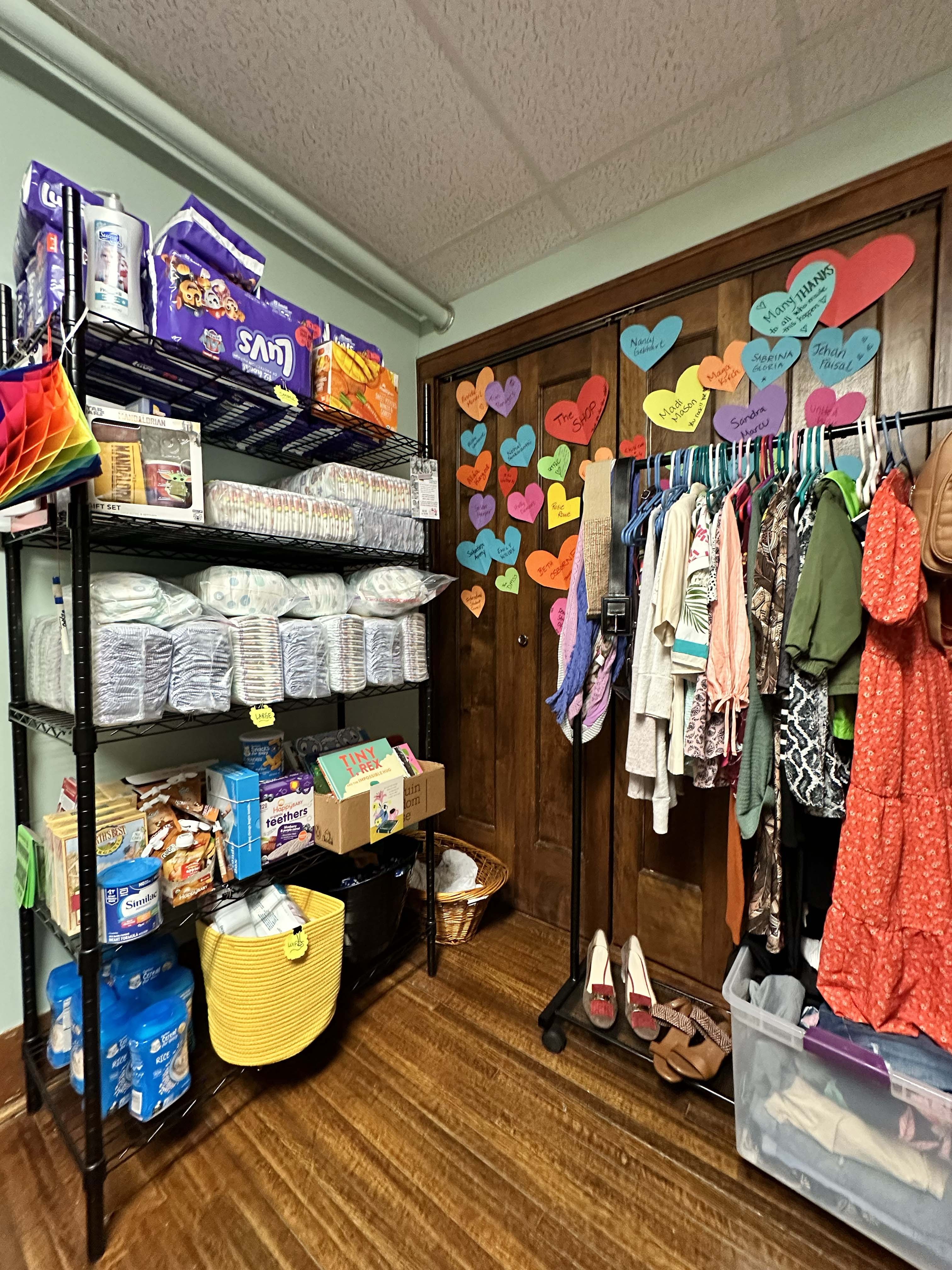 Taking care of each other
In addition to the food provided by SHOP, the center used supplemental funds from grants and donors to purchase specific items such as hygiene products for different skin and hair types and spices and ingredients not often found at traditional food pantries.
"We polled people and asked what tasted like home to them," said Marcu. "We wanted to have things where you come in here and you feel like this is for you."
The center doesn't collect any identifying information about those using the Resource Room beyond how many items were taken so staff can track and demonstrate its impact. Marcu said students are not the only people experiencing financial strain or food and housing insecurity, which is why the room is open to all.
The mission of the Resource Room is grounded in mutual aid, a philosophy that centers on the reciprocal exchange of resources with mutual benefit. Marcu said it's about giving what you have extra of and taking what you need. That mission resonated with groups on and off campus, and the Sloss Center received donations from student organization fundraisers and community partners like Dog-Eared Books in Ames and United Way of Story County.
With year one done, Marcu said they are encouraged by the engagement of the students and community and already have ideas for the future, which may include creating meal kits and celebration sets -- think cake mix and candles -- and cooking demonstrations.
"The goal is to keep sustainably growing, refining our donation system and engaging more students as volunteers," she said. "We're always asking, 'Is this meeting a need?' We're in a good place where we can get into fun and creative things too."
How to donate
Stop by the Sloss Center during open hours (Monday-Thursday, 10 a.m.-3 p.m.) or by appointment to drop off items with a staff member. A list of items accepted for donations can be found on the Sloss Center website, and the center will take gift cards as well.