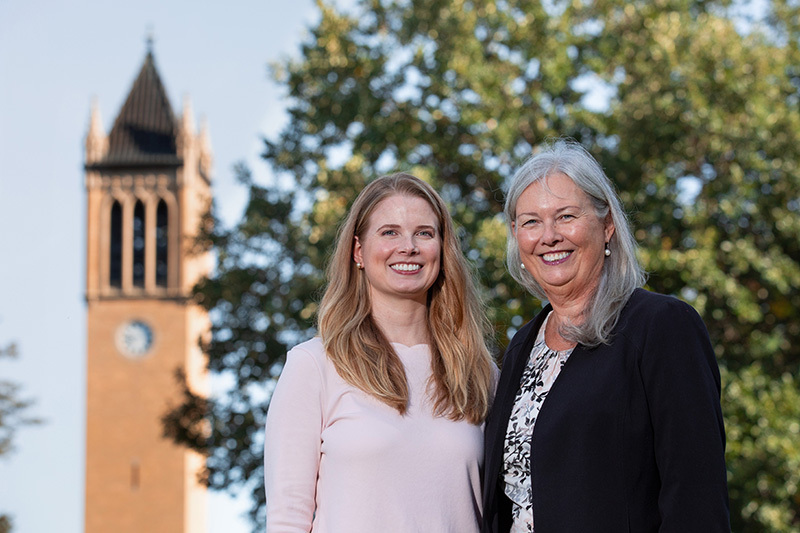 Cornell Brellenthin's orientation as a new faculty member at Iowa State was a little different than most. Brellenthin already had a trusted friend and colleague at ISU -- her daughter.
Cornell and Angie Brellenthin are perhaps the first parent-child faculty pair to serve simultaneously at the university.
"I think it just speaks to our love of learning and education," said Cornell, in her first year as a lecturer in the English department.
Angie, an assistant professor of kinesiology, came to Iowa State in 2016 as a postdoc before joining the faculty last fall.
Seeing the passion and energy her mother has as an educator left an impression on Angie growing up. The relationships Cornell had with colleagues and a career that allows her to explore questions with people who were excited about them appealed to her.
Cornell said doing homework with her daughters at night became a routine that may have planted the seeds of interest in education at an early age.
During a time that can be challenging for faculty, working on the same campus provides a support system for both even if their teaching schedules are complete opposites of one another.
"I know I benefit from my mom's wealth of teaching experience," Angie said. "I am fairly new to teaching, so having different circumstances coming up and being able to talk to my mom is very helpful."
Coming to ISU
In a reversal of roles, it was Angie who helped recruit her mother to Ames. Cornell previously worked at the University of Maryland, College Park, and taught remotely last year. Cornell moved to Minnesota to care for her mother, and made several trips to Iowa to visit Angie and the ISU campus.
"She took me on several tours of the campus and told me how much she enjoyed it and how she appreciated the people that she worked with," Cornell said.
Cornell's interest was piqued, and when the English department had an opening she applied. For Angie, it was a chance to have family close for the first time in a while.
"I had never had family in the area in Iowa, so it was nice to have the potential where we could have regular family visits again without always having to buy a plane ticket," she said. "I looked forward to having that shared experience, and her having the same enjoyment I have on campus."
The ISU environment drew both to the campus because of opportunities in and out of the classroom, but the people they work with quickly made them feel anchored.
The two rarely cross paths, but Angie has taken time to point out important places on campus, including the ISU Creamery.
Family foundation
The Brellenthins are a family devoted to education. Angie attended the University of Wisconsin, Madison, for a decade for her bachelor's, master's and doctoral degrees before finding her way to Ames. She said she has always loved school, earning her degrees in succession before turning to teaching.
Cornell's career began with 10-year stints in both banking and publishing -- at Reiman Publications in Wisconsin -- before beginning nearly 20 years in education.
"My love of literature is how I ended up in English," said Cornell, whose other daughter, Jacque, works at the Library of Congress in Washington. "Reading and discussing books is something I would be doing even if it weren't my job."
Cornell said seeing Angie begin her career helps put perspective on her own teaching and the growth she made. It also pushes her to try new things in lectures and interactions with students.
Angie has already shown her ability as a researcher, receiving a National Institutes of Health funding award on her first attempt.
"I am just so proud of her," Cornell said.