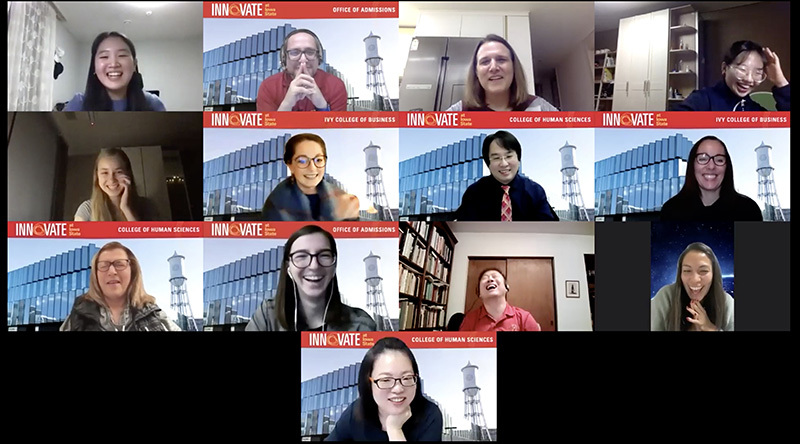 When Iowa State was recruiting international high school students in their home countries, a practice on hold during the COVID-19 pandemic, attracting attention at college fairs wasn't a problem.
"When we are in person, we're a top five table at any event," said Jorge Calderon, assistant director for international recruitment.
But standing out in an online college fair is more difficult. Every school is represented by a logo that students can click on in the virtual lobby, and there are a lot of logos. With the cost of international recruiting reduced by the lack of travel, virtual fairs commonly draw more than 200 colleges and universities, more than triple the size of the largest in-person events, Calderon said. As few as one or two students trickled in to the ISU virtual recruiting booth during some 2020 online fairs, usually keeping their video off and saying little.
"You don't have that eye-to-eye contact, where you can get a sense of whether someone is paying attention or not," Calderon said. "It's an issue."
Two events the admissions office held last month in partnership with the Innovate at Iowa State program aimed to cut through the detached drudgery of distance recruiting, engaging prospective students in themed competitions that offer a taste of an ISU education and a chance at cash prizes. The initial run was a success, and the admissions office is planning to offer even more innovation contests later this year.
"It is a great way for the students to get an educational experience with the university and get us in front of students we otherwise wouldn't see," Calderon said. "In these competitions, the students were sharing their video and paying attention and taking notes. It was really, really fantastic."
Building buzz
The idea to hold innovation competitions as a recruiting tool sprang from a plan Calderon was developing pre-pandemic to bring faculty on recruiting trips to demonstrate ISU expertise to international students interested in particular fields. With travel grounded by COVID-19, he turned to entrepreneur in residence Karen Kerns, who heads up the Innovate at Iowa State initiative that launched last year, for help shifting the concept online.
Kerns and Stacey Barnes, assistant admissions director for reporting and project management, developed two contests -- one asking students to design a community-building virtual event and another seeking ideas for how colleges could improve recruitment of international high schoolers. The competitions kicked off with workshops in early December, presented by Kerns and Calderon for the recruiting challenge and, for the virtual event contest, a group that included faculty in apparel merchandising and design, event management and design.
Calderon's international recruiting team enlisted counselors at international high schools to form participating student teams, who had about a week following the workshop to create a proposal. Nearly 90 students were involved in the recruiting experience contest and nearly 40 in the virtual event contest. Teams hailed from China, Korea, India, Hong Kong, Bolivia, Ethiopia and Vietnam. Winners in the recruiting event split $10,000 in prize money, which was sponsored by the Ivy College of Business. Total prizes in the virtual event contest were $6,000.
Students' ideas for virtual events included a standup comedy performance, a fashion show and a color-based version of charades. A handful of the recruiting ideas were promising enough to prompt the admissions office to consider adopting them, including the winning team's idea to create short videos of a day in the life of a student from each of the countries where Iowa State is recruiting.
"Some of the ideas are genius. We are pursuing some this spring," Calderon said.
The recruiting value of the competitions isn't necessarily getting participating students to enroll -- though there were students who were interested after the competitions, Calderon said. The outcome the admissions office is tracking is the number of applications from participating high schools as a whole.
"It's more about getting a buzz going at that school, and getting counselors who are advising students on where to go to college to know about Iowa State University. We want to be on their mind. At some of these events, the participants invited their entire senior class and their family members," he said.
Multiple students entered in the recruiting experience competition noted that the competition itself was an effective recruiting effort, Calderon said.
"They said, 'This competition is it. This should be part of it,'" he said.
Innovating head start
The competitions are the first examples of the Innovation Fellows in Training (I-FIT) portion of the Innovate at Iowa State program, designed to provide high school students a feel for the university and its innovation opportunities, Kerns said.
"It gives students a chance to experience what our faculty and mentors are like and how they might innovate on campus," she said.
Should they enroll at Iowa State, I-FIT students also get a head start in joining the university's Innovation Fellows Corps -- a program that fosters opportunities for dedicated student innovators by pairing them with mentors, industry leaders and collaborators. Kerns said an I-FIT experience counts as credit toward designation as an Innovation Fellow.
Similar I-FIT programs are in the works for high schools in the U.S., including two in Iowa, Kerns said. In addition to Barnes and Calderon, library external relations director Nacuya Rucker is colloborating with Kerns to develop the I-FIT programs, she said. Extending beyond campus is an important aspect of Iowa State's growing innovation programming.
"The minute you connect with us, you are part of our ISU family," Kerns said during one of the competition's final presentations. "We're innovating everywhere."
Calderon said he and Kerns are developing as many as a half dozen international I-FIT events for admissions to offer in late summer or fall for potential fall 2022 enrollees, potentially including an app development contest, a talent show and a business plan pitch-off. Even when recruiting travel resumes, he foresees continuing to hold the online competitions.
"It's a really great blueprint to roll out with other faculty members," he said.