Supervisors can level up their leadership skills with a new certificate offered by university human resources (UHR).
The leadership skills certificate program provides a professional development opportunity for managers to build and enhance leadership skills applicable to a variety of roles at the university. The program includes a mix of instructor-led courses offered quarterly by Employee and Family Resources (EFR), the human services organization the university contracts with for the employee assistance program, and LinkedIn Learning courses available on demand.
The program kicks off with an EFR course, Leading with Your Best Self, on Thursday, April 6 (11 a.m.-noon).
How it works
Employees register for EFR and LinkedIn Learning courses on Workday Learning. LinkedIn Learning progress will be updated automatically, and instructors for EFR courses will receive a roster of employees who registered on Workday Learning to confirm attendance with UHR. After completing all courses, the employee will receive a printed certificate and an electronic badge of completion for use in email signatures.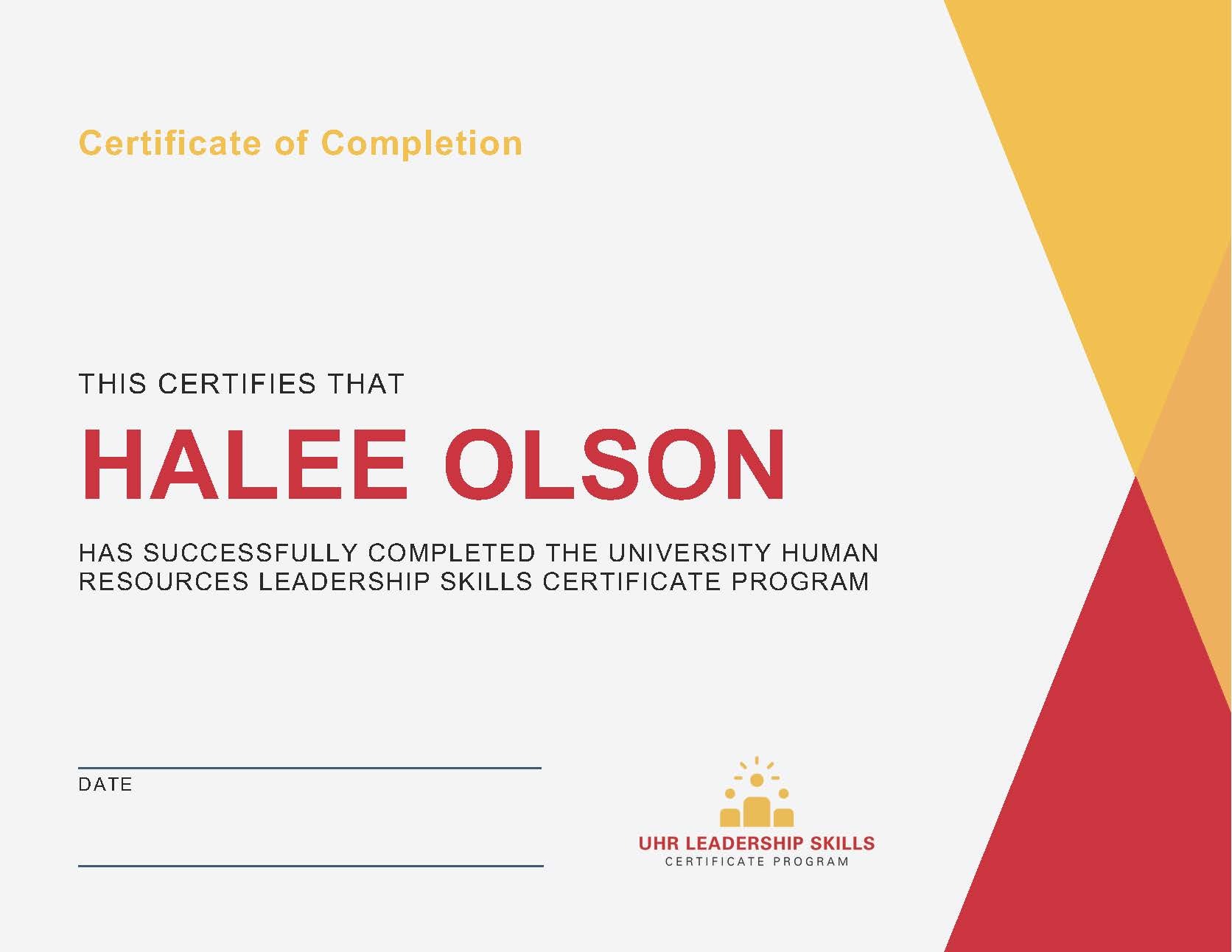 At this time, the program is offered only to supervisors. There is no specific timeframe or order in which coursework must be completed to earn the certificate.
Program content
The selected curriculum -- more than 14 hours of courses -- explores important topics for new and existing leaders at ISU, said director of benefits Ed Holland. Throughout the program, supervisors can reflect on their leadership behavior, identify strengths and opportunities for growth and learn practical skills that can be applied every day and in challenging situations.
If you're not sure where to begin, UHR recommends attending one instructor-led course and completing one or two LinkedIn Learning courses per month to earn a certificate in approximately six months. For more information, contact Holland.
LinkedIn Learning courses (8)
Coaching and Developing Employees
Managing Teams
Boosting Your Team's Productivity
Delegating Tasks
Managing Employee Performance Problems
Collaborative Leadership
Developing Credibility as a Leader
Body Language for Leaders
EFR instructor-led courses (6)
Virtual (Workday Learning)

Leading with your Best Self

April 6 (11 a.m.-noon)
Sept. 21 (10 a.m.-11 a.m.)
Nov. 15 (11 a.m.-noon)

Communicating in Challenging Situations

April 20 (11 a.m.-noon)
Aug. 3 (10 a.m.-11 a.m.)
Dec. 6 (11 a.m.-noon)

Effective Leadership and Communication

May 11 (10 a.m.-noon)
July 12 (1 p.m.-3 p.m.)
Nov. 9 (10 a.m.-noon)

Building an Effective Team

June 7 (10 a.m.-noon)
Sept. 14 (10 a.m.-noon)
Oct. 19 (2 p.m.- 4 p.m.)

Knowing How to Use the Employee Assistance Program (EAP) as a Supervisor

June 15 (1 p.m.-2 p.m.)
Aug. 31 (1 p.m.- 2 p.m.)
Dec. 19 (1 p.m. - 2 p.m.)

In-person (Location TBA)

Managing Conflict

May 23 (10 a.m.-noon)
July 18 (10 a.m.-noon)
Dec. 12 (10 a.m.-noon)