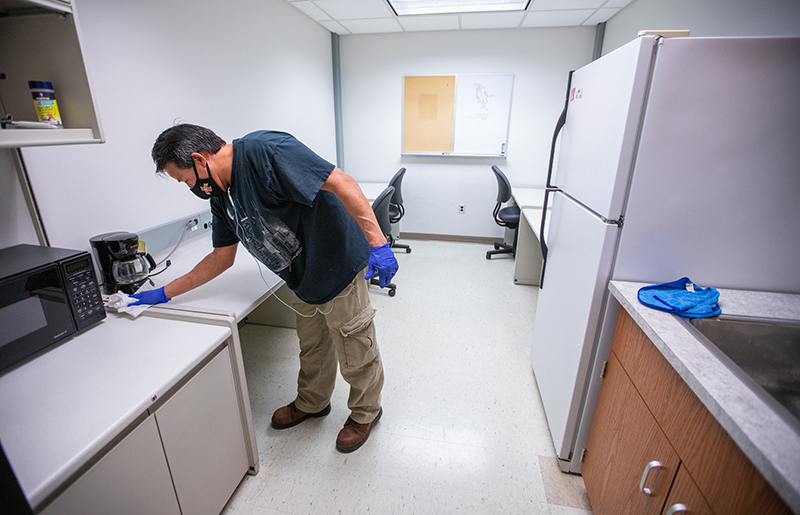 As announced last month, custodial services provided by facilities planning and management (FPM) teams will begin to return to pre-pandemic levels on Jan. 18, the first day of spring semester. Senior leaders approved funding to add 14 positions to the 127 custodians budgeted for the current fiscal year.
As with many industries, hiring and retaining custodians is a challenge right now, so custodial services senior manager Michelle Lenkaitis actually needs to fill about 20 vacancies to hit the 141 mark -- and train the new hires.
"I ask the campus community to be patient, be flexible and communicate with us," she said. "It's unlikely we'll be fully staffed by Jan. 18, and we'll have a significant number of custodians who still are new and in training. Due to staffing levels and because we clean in more than 80 buildings, we won't be able to provide all the restored services on Jan. 18. We will expand services into offices and department spaces as our staffing level improves.
"If we're not meeting your priority needs, please contact me," she added.
What's your space?
So, what will that restored service level look like as custodial staffing increases? Lenkaitis said cleaning frequency is determined by a room's classification in the campus space inventory. That information is available on the custodial services website, and by Jan. 18, it should be updated to reflect the restored service levels:
Restrooms: Daily
Common areas (vestibules, corridors, stairwells, elevators): Twice per week. Due to sand and salt dragged in from winter sidewalks, floor work in common areas may be more frequent this time of year.
Classrooms: Weekly full clean, plus two spot cleans (floor and trash)
Library study areas: Weekly
Department spaces such as conference or meeting rooms and break rooms: Weekly (trash emptied daily in a kitchenette)
Personal offices: Every other week (service includes trash, floor, dusting on cleared surfaces)
Did you know?
Custodians may not move anything in personal offices. If your desk surface is cleaned off, it gets dusted (though items on your desk, such as a framed photo, won't -- again, because your custodian can't pick it up).
Most custodians (roughly 70%) work 4 a.m.-12:30 p.m. The rest are divided between two other shifts: 7:30 a.m.-4 p.m. and 4 p.m.-12:30 a.m.
Lenkaitis said beginning this month, research labs will be cleaned monthly, but only when the service is requested. She noted many research teams prefer custodial teams don't work in their space, so unless a unit requests the service, custodial teams will stay out of research labs.
Trash centers could remain in use
Because trash wasn't collected from offices last year, FPM created trash centers on every floor of every building. Faculty and staff were asked to bring their office trash to their trash center, and custodians regularly removed the trash from the buildings.
Custodians will resume collecting trash from offices and administrative areas, but FPM will keep the trash centers available initially and, if there is sufficient use, retain them.
Catching up over winter break
During the winter break, custodial teams turned their attention to spaces, including offices and other department spaces, that weren't cleaned during fall semester under the previous service plan. Those spaces will get at least one full clean, Lenkaitis said.
Enhanced cleaning and disinfecting efforts during fiscal year 2021 -- which was supported by federal COVID-19 relief funding -- masked planned service reductions necessitated by ISU's across-the-board 5% budget cut that year. Instead, the reduced services took effect last July 1, and during fall semester custodians focused on spaces students use -- classrooms, auditoriums, teaching labs, seminar rooms and library study spaces. It left department spaces, including employee offices, to be cleaned by those who use them.