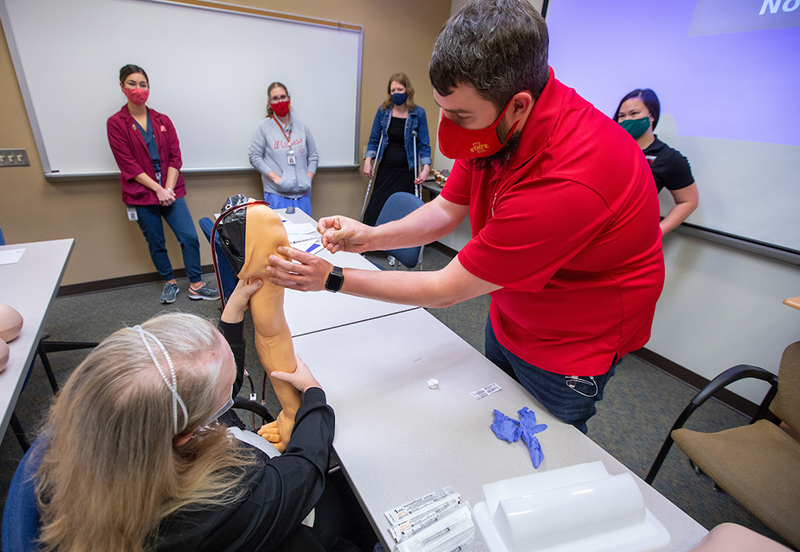 COVID-19 vaccine quantities may ebb and flow with national circumstances, but university employees' commitment to distributing the supply Iowa State receives is solid. Within 24 hours of last Thursday's appeal to faculty and staff to volunteer for a planned mass vaccination clinic across three basketball courts in State Gym, 90% -- 679 of 749 nonclinical shifts -- were filled. About 355 employees responded by then, 260 of whom grabbed two or more shifts, according to Shaun Jamieson, office of risk management, who coordinated the signup process. By Monday morning, just seven shifts were unclaimed.
"I extend a huge thanks to all who offered their time. It was amazing how quickly people signed up for shifts," said associate vice president for student health and wellness Erin Baldwin, also director of the Thielen Student Health Center. "It's so gratifying to see people come together in an outstanding show of support for what we're trying to accomplish in a few weeks' time."
A thousand worker shifts
Helpers in these nonmedical roles make up about 75% of the personnel needed to operate the large-scale vaccination clinic, said ISU emergency manager Clayton Oliver, environmental health and safety (EH&S). When the vaccine supply warrants a full-capacity clinic, about 45 of them each day will support 24 medical personnel approved to administer vaccines. He said the scale of ISU's vaccine clinic is designed to serve up to 2,250 people per day -- if the vaccines are there.
Clinic launches
The mass vaccination clinic in State Gym is open April 15-16 as planned, and workers whose duties require it received training Wednesday afternoon. Following the Center for Disease Control and Prevention's April 13 recommendation that clinics with Johnson & Johnson vaccine hold off using it, Iowa State students scheduled to receive a J&J vaccine from Iowa State's first shipment instead will receive the Pfizer vaccine.
Baldwin is coordinating with the governor's office and Story County Public Health on supplies for next week. She said clinic dates could change, depending on vaccine supplies, but helpers should report for their shifts unless they receive notice of a change.
Oliver said Thielen medical staff will fill 40% of the vaccinator roles, with assistance coming from ISU occupational medicine, Mary Greeley Medical Center, Story County Public Health and the College of Veterinary Medicine. As allowed by the federal emergency legislation, a group of 40 Vet Med faculty and fourth-year professional students completed training this week on giving vaccines to humans.
The clinic supervisory team works in campus units familiar with the incident command process in a disaster. (Yes, Oliver said, the pandemic is a slow-motion disaster.) So the leadership team includes employees from the Thielen center, EH&S, risk management and Ames Laboratory.
"At the end of the day, this is Thielen's operation -- a public health effort to get needles in arms," Oliver said. "We [emergency management] support the people who are in charge, and we coordinate a lot of behind-the-scenes work. Mass vaccination is a prime example of that. We're working with a diverse group of units and solving a variety of unexpected problems."
Employees who help will support the vaccinators in four ways: registering clients, transferring records to the state's COVID-19 vaccination database, observing clients in the 15 minutes following their vaccination and general hospitality and wayfinding at the clinic. Thielen staff are coordinating training for all of them and will contact clinic workers to get started.
Scaling up
Oliver helped organize the back-to-school COVID-19 testing operation for on-campus students last August, and said that event was the starting point for scaling up to a vaccination clinic that could do twice the volume of the testing clinic. Lessons learned back then will improve the vaccination clinic. For example, he said they learned the importance of hospitality and a few helpful directions.
"We set up the clinic and we know the floor plan and the operation. Our clients may not," he said. "So it's important that a friendly face is there to say, 'Here's what I need to you to do next,' and that we step people through the clinic, one station at a time. Those helpers are really important."
A big part of emergency management is drafting contingency plans for possibilities that never occur. Oliver is hopeful the mass vaccination clinic reaches its potential before the semester winds down.
"We've spent the last year asking people to not do things. Don't gather, don't remove your mask, don't come to class," he observed. "But now we're asking people to take a positive step, to do something meaningful to help get us all out of this."