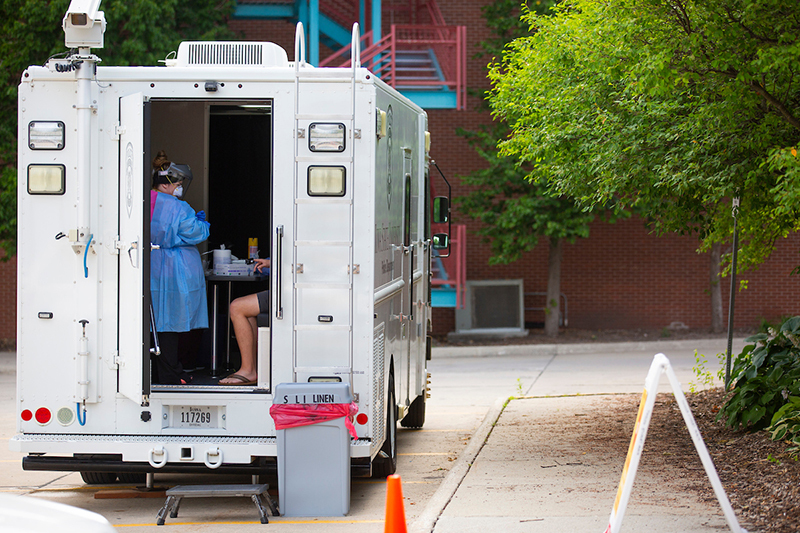 To assist with contact tracing and providing health support, faculty, staff and students need to complete an online form if they test positive for COVID-19.
In a June 26 message to the Iowa State community, Erin Baldwin, interim senior vice president for student affairs and director of Thielen Student Health Center (TSHC), outlined the safe process for responding to positive cases and contact tracing on campus. Baldwin stressed the importance of self-monitoring for symptoms of COVID-19, and staying home if you are not feeling well.
"The reporting process is confidential and a way we can ensure employees or students get the help and support they need," Baldwin said. "Reporting will help us maintain a healthy campus community."
Response to positive test results
Members of the ISU public health team -- an interdepartmental team managed by TSHC -- are notified when positive cases are reported through the online form. Team members then contact the individual to answer questions, provide health information, resources and guidelines from the Iowa Department of Public Health (IDPH) and federal Centers for Disease Control and Prevention.
Baldwin said anyone who tests positive must self-isolate. Information about COVID-19 leave is available on the university human resources website. The public health team also will notify the employee's supervisor, who may reach out to provide support. Supervisors also may send a note to colleagues in the impacted unit to alert them to the positive COVID-19 case, but the identity of the employee who tested positive must stay confidential.
In the case of a positive COVID-19 test for students living in university housing, notification is provided to the residence department.
A workflow chart provides an illustration of the response process.
Plans for testing and contact tracing
TSHC and the Veterinary Diagnostic Laboratory, located at the College of Veterinary Medicine, are developing plans for testing faculty and staff on campus. In a June 24 letter, President Wendy Wintersteen said the public health team is working on a comprehensive plan for COVID-19 testing and contact tracing to identify others who may have been exposed. An announcement will note when this process goes live sometime this month. In the meantime, Story County Public Health and Iowa Department of Public Health will continue to provide contact tracing.
In the contact tracing process, staff reach out to individuals who test positive and ask about close contacts based on the IDPH's definition. Staff then notify those contacts they have been exposed to a positive case and provide guidance for quarantine.
Questions about the response process or other COVID-19 issues, may be sent to COVID-19@iastate.edu.