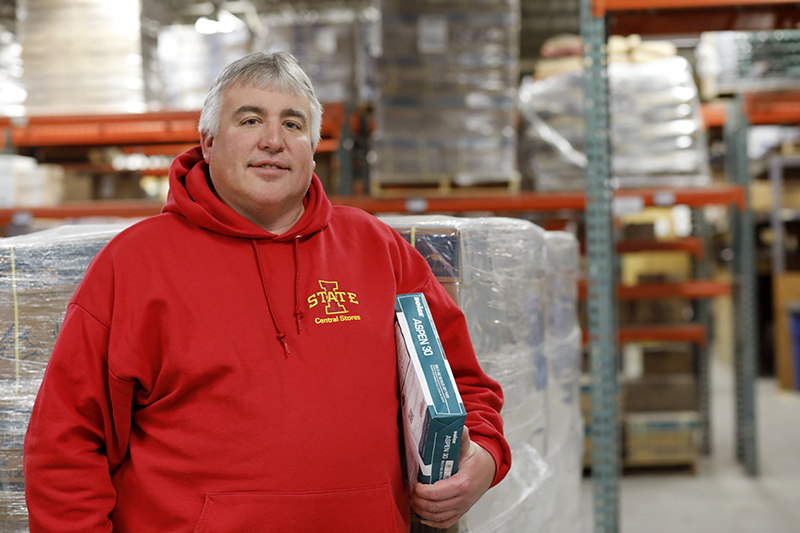 Bill Spratt likens Central Stores to a super Wal-Mart without the food. Jared Hohanshelt sees it as a cross between Menards, Office Depot and a custodial warehouse. No matter the comparison, they both agree the university's central buying operation should be better known.
"We've always struggled with getting our name out. We joke that we're the best kept secret on campus," said Hohanshelt, Central Stores director.
How to order
Nearly 5,500 in-stock items can be ordered from the Central Stores online catalog. For help finding and buying items that aren't regularly stocked, contact Bill Spratt at bspratt@iastate.edu, 294-0408 or 515-745-0084.
Central Stores stocks about 5,500 products in its General Services Building warehouse, a mix of general needs (trash bags, batteries, paper in many forms) and particular ones (plumbing and electrical parts, printer toners, hundreds of tools).
"It's just about anything you would need to help run a small city," said Spratt, Central Stores supervisor.
The mission is to save Iowa State money. Thanks to volume discounts, vendor contracts and familiarity with local sellers, Spratt is confident Central Stores is difficult to beat on price.
"You can't get it cheaper than I can," he said.
After unveiling a more user-friendly online catalog last summer, Central Stores is aiming to raise its profile on campus in hopes of reducing the estimated $1 million in ISU purchases it misses out on annually. Conservatively, capturing those sales would save $200,000, Hohanshelt said.
Better than Amazon
Up until July 2019, ordering items from Central Stores was an acquired skill. Buyers needed to be familiar enough with the catalog to know what they were looking for, Spratt said. The updated catalog is a much simpler searchable index that includes product pictures.
"It's not quite the Amazon experience, but it's getting close," Spratt said.
Matching or beating online retailers on delivery is a focus, too. Central Stores delivers, at no charge, in-stock items by the next day to campus customers, and same-day delivery usually is possible with orders submitted before 1 p.m., Spratt said. Delivery staff will take items to wherever needed, including specific desks and storage closets.
"We go upstairs, downstairs, no elevator, elevator, whatever it is, where you want it is where we put it," Spratt said.
Buying from Central Stores instead of a third-party seller also is easier on the back end, Hohanshelt said. Units can pay for items directly from university accounts to avoid purchase-card reconciliation, and problems with products aren't left for local buyers to navigate.
Unique items
Much of what Central Stores buys is meant to serve the entire campus, like the semitrailer of copy paper delivered every three weeks -- 8,400 reams per truckload. But storekeepers also track down special items.
For example, a campus customer recently contacted Spratt looking for converters to replace 9-volt batteries with AAs. The best price the customer found was more than $6 apiece. Spratt got them for 63 cents from a local vendor.
In addition to the money saved on price, limiting the time spent fetching products has value. Central Stores has an employee devoted to picking up special orders who, when stopping in at local retailers, too often sees other university employees picking up items, Spratt said.
"That shouldn't be. It should be us going to get the stuff," he said.
Studying what works
While Central Stores usually will stock what customers want to buy, but it does promote efficiency. In some cases, that involves encouraging buyers to consider less expensive brands or alternatives. Sometimes, the persuasion springs from analysis.
Studying usage patterns, Central Stores found that it costs less in the long run to buy more expensive bathroom paper towels. People used more of the cheaper brown sheets to dry their hands than the costlier but more absorbent white variety. For the same reason, Central Stores only sells two-ply toilet paper.
With an on-campus seller, the whole system is considered. As part of the paper towel analysis, Central Stores took into account the additional time custodians had to spend reloading paper towel dispensers that ran out more frequently, Hohanshelt said.
"We don't look just at the product, we look at the process involved," he said.
Looking at the whole process also is a driving force behind the collaboration with Iowa Prison Industries, which manufactures the university's trash bags and cleaning solutions. Inmates receive job training, and the university gets a quality product at a great price, Spratt said.
Raising awareness
Hohanshelt said he'd like to promote Central Stores more on campus, perhaps including signs or marketing, but adjusting to the needs of potential buyers is equally important. Store staff have begun meeting with local units to identify purchases they could be handling.
"We're getting more into the weeds. We're doing more one-on-ones on, 'How can we help you,'" he said.
Hohanshelt also hopes to renovate the front room of the Central Stores warehouse to make the area more like a showroom, giving staff a chance to test out items.
"Our tradespeople want to see, feel and touch the products instead of looking at a catalog," he said.