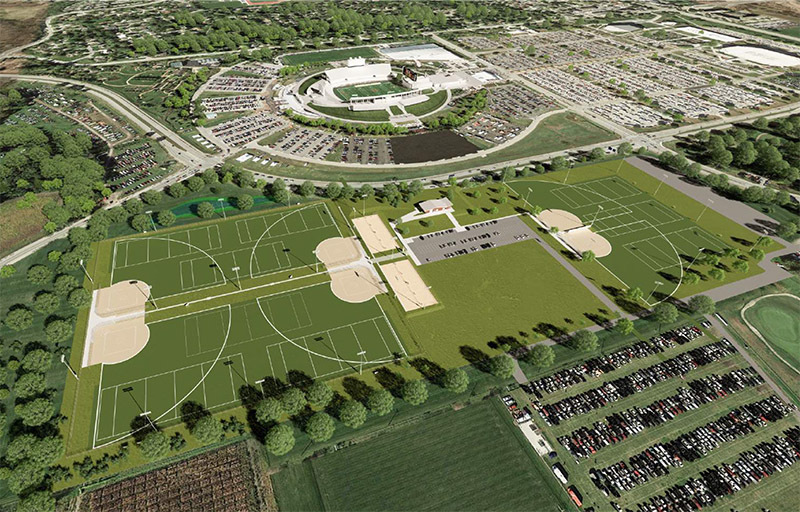 Recreation services is getting closer to having two significant field renovation projects completed, offering students a variety of sports participation options.
The fields east of Maple Willow Larch (MWL) will officially open this fall. The $2.1 million project added lights, scoreboards and irrigation.
"This is the first fall that we open for competition," said Garry Greenlee, recreation services associate director of facility operations. "It has a cricket pitch and multiuse fields for sports like Ultimate Frisbee, lacrosse, soccer and flag football."
The Southeast Recreation Complex, east of Jack Trice Stadium, is in the middle of a $10 million renovation to redesign nearly 30 acres with new turf, lights, irrigation system, pavilion and parking. Softball, sand volleyball, Ultimate Frisbee, soccer and flag football are some of the sports that will be available at the complex.
"It is the renovation I am most proud of and most looking forward to being completed," said recreation services director Mike Giles. "That project has been ongoing for about five years. To actually see it renovated and worked on, and the impact that it will make and have on our students is impressive."
Construction will be completed by fall 2020, at which time the MWL fields will be used more for club sports while the Southeast Recreation Complex will be geared toward intramurals. ISU boasts nearly 5,000 intramural teams.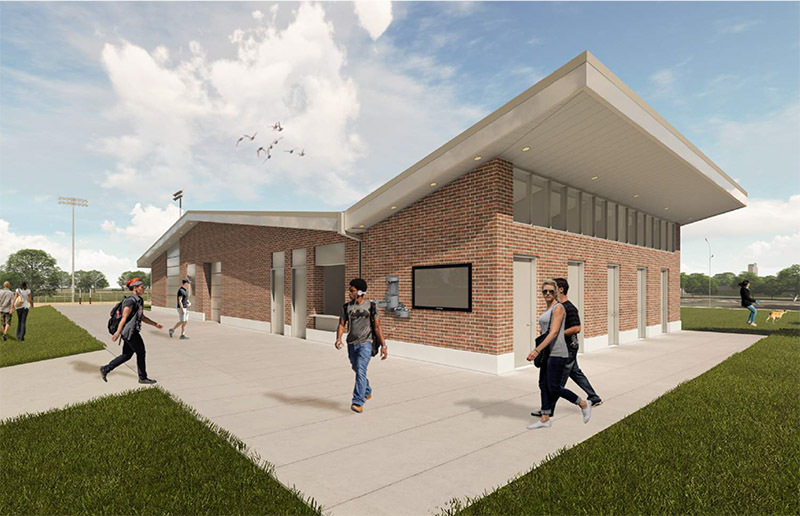 The addition of lights gives students flexibility with additional time and increased programing available. Improved drainage and irrigation also may extend the season for some sports with fields better able to handle Iowa winters.
More than providing a space for sports, Giles sees recreation services playing an important role in everyday student life.
"It is more than just recreation or providing activity," Giles said. "It is about overall wellness for our students and how engagement can lead to things like a higher GPA or better sleep at night."
When renovations are complete, Giles sees a corridor on University Boulevard and Lincoln Way lit up with student activities on fields at the Southeast Recreation Complex, MWL and Lied recreation fields.
Esports boom
One of the biggest areas of growth for recreation services in recent years is esports -- competitive, organized video gaming.
"Students are engaging in esports in a way that is new to us, and we have to ask how we meet the student demand while still being mindful of some of the challenges that heavy usage inside gaming can have," Giles said.
An emphasis on esports is an example of recreation services meeting the demand of students, not trying to dictate to them. It fits the new campaign "Your Rec, Your Way." Last fall, recreation services hosted an intramural gaming event and plans to host three or four this fall, in addition to programming it already has in place.
Construction beginning soon will turn two Beyer Hall squash courts into an esports room for gamers. The renovation should be completed by fall 2020 and provides more than just a place for gamers to come and play.
"It gives them a space -- from a socialization perspective, development perspective -- to get them out of their res hall where they may be sitting by themselves," Giles said. "It will allow for an egaming team that meets and is very competitive, to just a couple of friends who want to engage in a social environment."
The new room also will have academic uses. Recreation services plans to partner with units to conduct gaming research, Giles said.