Seeing three words "she/her/hers" officially added to Nicci Port's business card marked the completion of something she began in 2004.
Starting April 1, employees could add pronouns to university-branded items such as business cards, nametags, desk nameplates and email signatures. Misidentifying someone using a pronoun that does not correctly reflect the gender they identify with was a driving force for this change.
Working with the office of university marketing, procedures were set up to help interested employees add pronouns to these identification items:
The right time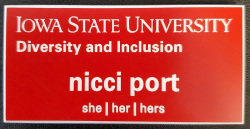 Port, project director for LGBTQ+ initiatives in the office of diversity and inclusion, said referring to an individual by the proper pronouns is like getting a name correct.
"I encourage people to think about how if someone misnames me that can be upsetting, and pronouns are the same thing," she said. "As the leader of the LGBTQA+ faculty staff association in 2004, we would ask if we could add pronouns, but it was not part of the template. There wasn't a lot of movement until recently."
Port said several things came together to allow adding pronouns to university items. Continuing requests by employees, the creation of the office of diversity and inclusion three years ago, and relationship building between diversity and inclusion and university marketing offices all helped. An article last fall in the Iowa State Daily also brought more attention.
"We are always looking for accommodations, and there have been more requests for pronouns on university items, so we felt it was time to take the step to ensure everyone at the university feels respected," said Carole Custer, director of university marketing. "I think this is a step forward and helps everyone feel like they are valued."
Port said she received positive feedback from faculty and staff who added pronouns to university items. She also sees it as an important step for the university.
"I think it positions Iowa State as a more welcoming campus, which is one of President (Wendy) Wintersteen's main goals," Port said. "If you exchange business cards and someone sees that Iowa State understands the importance of pronouns, that might do us well in recruiting students and employees."