In the last month of his last semester at Iowa State, Honors senior Brandon Beecham is squeezing in a research tour of sorts. He's a presenter during three undergraduate research events: April 1 at the State Capitol with other regent university students, April 17 at ISU's undergraduate research symposium and May 1 during the spring Honors poster presentation event (3-5 p.m., Memorial Union Great Hall).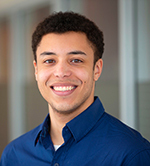 The accounting and finance double major, who will start in John Deere Financial's early career development program this summer, attributes his research topic to his fascination with financial statements and his student debt.
"I love reading financial statements," he confessed. "I was looking at Iowa State's financial statements, which are online, and I got to thinking, what about all of this is causing tuition prices to rise?"
So, Beecham collected, charted and analyzed all university accounts from 1990 to 2018, in five-year intervals, to track changes and identify trends. (Actually, he did this for all three regent universities but agreed to talk about just Iowa State with Inside.)
His goal?
"I wanted to see which accounts changed the most over 28 years, how they interact with each other and how they impact tuition prices," he said. "It's a topic so many people know about first hand but maybe don't understand why."
The trends he identified didn't surprise him, he said, though the gravity of a few of them did. A few examples:
1. Adjusting for inflation (Consumer Price Index), state appropriations to Iowa State went from about $348 million in 1990 to $234 million in 2018. "That's a huge decrease -- over $100 million -- in real dollars. That's incredible," he said.
If state funding is supposed to help subsidize tuition for Iowa residents, Beecham said it's not doing the job it once did: $18,506 per Iowa student in 1990, $12,322 per Iowa student in 2018.
2. Iowa State has responded to the drop in state support with more university aid in the form of grants and scholarships, 70% of which address financial need, Beecham said. Available data didn't allow him to trend financial aid all the way back to 1990, but he noted nearly a tripling of university aid since 2005.
"Because scholarship dollars have gone up so drastically, my interpretation is that we're doing a good job making sure college is not getting more expensive for those most economically vulnerable," he said. He noted that the average loan debt has decreased for Iowa State undergraduates over the last 10 years after a decade or more of steadily increasing.
3. Beecham links the drop in state funding to two other trends: large increases to nonresident tuition and a drop in instructor pay relative to Iowa State's peer group. Twenty years ago, he noted, Iowa State faculty pay was at or slightly above the average of peer faculty at 11 land grant universities; today, it's around .91 on a 1.0 index.
"We can't keep cutting instructor pay or our faculty will leave, our national rankings will go down and we'll lose international students who use those rankings," he said.
The group most affected by the reduction in state support is out-of-state students, who have seen much higher tuition increases than resident students.
"We're increasing their rates so fast to keep our resident tuition rates down," Beecham said. "Students from middle-class families don't get the need-based scholarships and don't have the disposable income to pay for college."
He's concerned that neither trend is sustainable. Illinois is working on legislation to lower its resident tuition to keep Illinois students in the state; others could follow suit, he said. Without that higher tuition to subsidize resident tuition rates, "we're going to need some other source of funding," he concluded. "These trends aren't sustainable."
Photo by Christopher Gannon.